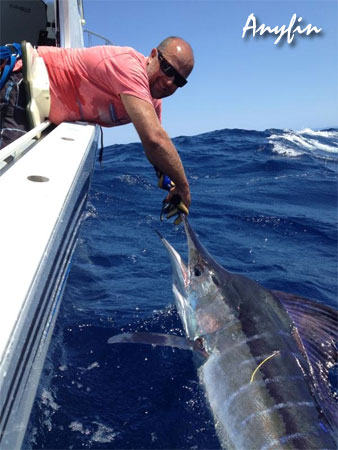 The
Shellharbour Open Tournament
was held over the weekend with 27 boats fishing the tournament and 18  Shootout including a great turnout from neighbouring clubs with boats coming from Bermagui, Ulladulla, Batemans Bay, Jervis Bay and Kiama.
With unfriendly conditions forecast, competitors woke on Saturday morning to calm conditions  and it didn't take long for the tags and captures to start flowing in. The first marlin, a nice black, tagged by Profishent was tagged just 15mins before Jambo tagged the second – a striped marlin. Anyfinn was also tagged a good sized stripe marlin later in the day.
While the marlin were a bit more quiet Sunday there were plenty of other gamefish recorded and Anyfinn tagged another stripe from a double hookup. All in all, a great weekend and the weather was much better than predicted which made for a pleasant surprise!
Photo: Daniel Bergmanis with his second marlin on Sunday fishing on Anyfinn
Results
Heaviest Other Gamefish 15.2kg Dolphin Fish on 15kg line to Nick Sergi on Rip N Tear
Most Meritorious Capture 47kg YFT to Simon Gayler on Downtime
Champion Male Angler Capture Simon Gayler
Champion Boat Capture Downtime
Champion Small Fry T & R Ruairi Mcnamara on Argus
Champion Junior T & R Brandan Lillico on Tailwalker
Highest Pointscore Other Gamefish Shane Forrester on Standout
Champion Lady Angler Chrissie Ward on The Warden
Champion Male Angler Daniel Bergmanis on Anyfinn
Most Sharks by a Boat NFI
First Tagged Marlin Scott Brown on Profishent
Most Marlin By a Boat Anyfinn
Champion Boat T & R Anyfinn
Port Stephens
Indications are that the switch is about to be flicked for the Shootout this weekend, and the Interclub starting next week. Capt. Tim Dean's Calypso has been picking away with a couple of fish a day but had a big fish day on Monday with an estimated 5-600lb blue tagged as well as two stripes for Capt. Ross Finlayson who is at the wheel this week. Capt. Scotty Thorrington's Freedom is fly fishing this week and while they had no luck enticing the fish onto the fly yesterday, they did see plenty. Ben says they raised a black and a blue that didn't switch, saw a stripey tailing as well as 3 free jumpers. They also saw a big blue free feeding several times right next to them.
Gold Coast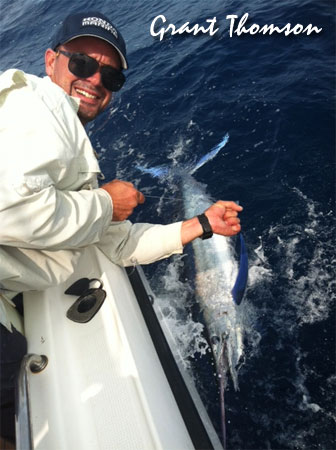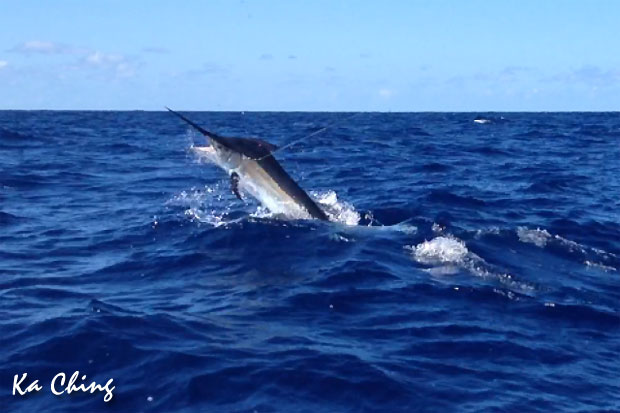 After fishing solo on Monday, Grant Thomson welcomed another set of hands yesterday and with cousin Leon Warren on board with him on his cat, managed 4 from 5 (photo). I also heard from Mark Palazzi skipper of Ka Ching who was taking advantage of the good fishing to chase 4kg records on Monday.  Mark says they fought two solid fish, both around the 70-80kg range, including one fish they fought for 1.5hrs before losing it beside the boat! (Photo right).
Cairns
And last but certainly not least, another clip from Cairns (the rest of the collection is here), this one from Capt. Brett Goetze's Reel Chase to recap their Cairns Season 2013!