Off the Gold Coast yesterday, Capt. Brett Alty on Mistress did it again releasing 10 black marlin for the second day running!  Also getting amongst them, Capt. Ross McCubbin on Reel Busy gave up on the mackerel after an estimated 7kg spotty and focused on the marlin instead converting 6 from 6 to all marlin 'virgin' anglers. Photo of one of the fish before release below. Well done! (Don't think the Sunshine Coast was left out of all this action – see below!)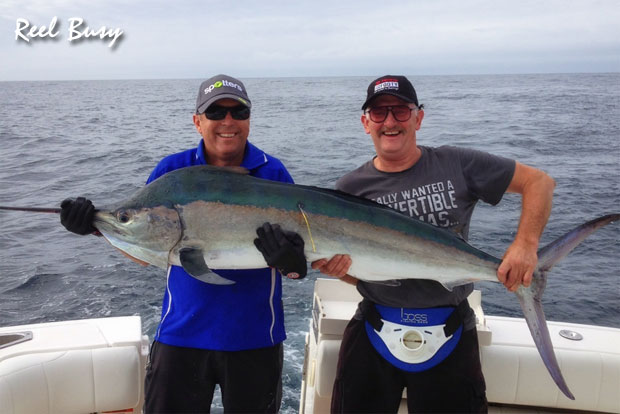 The annual Little Ships Tournament also kicked off yesterday and Ian tells me they were lucky that the forecast weather didn't quite come through for the 'little ships'. They have 21 teams fishing with 12 black marlin tagged on light tackle as well as one sailfish and numerous tuna and other species. The lead boat is a Kevla Kat called Viking from the Gold Coast. Ian tells me they were waiting for today to call if fishing for Day 2 will go ahead depending on whether the wind comes up.  Not looking too crash hot!
Meanwhile on the Sunshine Coast, the fish are still on the bite up there as well.  Following up from his previous report to Tuesday, Lachlan tells me that Misty got amongst them again on Wednesday with 5 blacks while Big Wave Dave tagged 2 (1 black and 1 sail) and Take Time the 1 black.
Thursday the fish went a bit MIA with Reel Hunter tagging 2 and Catapult tagging 1.
Friday it was back on with Catapult leading the fleet with 7 tags (6 blacks and a sail) with first time angler Clint accounting for 2 blacks and a sail. Nearby Dragon Lady tagged 3 (2 blacks and a sail including a black to 6 year old Maxi), and Reel Capture, Luna and Reel Hunter also tagged 2 blacks a piece while Big Wave Dave and In a Meeting  got one each.
Thanks Lachlan for another great report and the pics below!