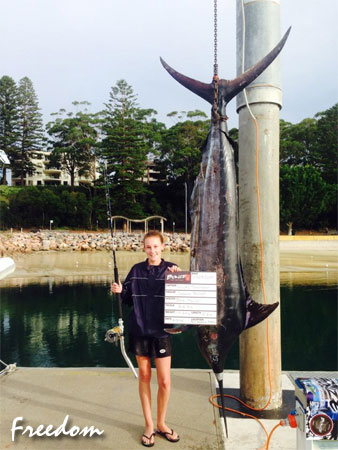 The day after winning the Interclub, Capt. Scotty Thorrington's Freedom was back at it again at Port with junior angler Jessica Barret on board again on the record hunt. It was a successful day with 2 from 3 marlin, including a potential Australian Junior Female record with a 119.4kg blue marlin on 24kg tackle.
Scotty said they also tagged another fish about 90kg and pulled the hooks on a beauty on 30lb.
Boats heading south from the Interclub yesterday reported a few stripes and Scotty predicts the inshore bite will fire this week. Here's hoping it does!
They are back out again today on the hunt again – good luck Jessica and well done so far!
From the weekend: I'm hearing it fired at Ulladulla (any reports?) with Blue Alibi among the boats on the fish releasing 5 (4 stripes and a black).
Meanwhile the little blacks are still on the Sunshine Coast with Catapult going 3 from 4 on Sunday to Jay Graham and Paul Jones.
Photo from Lachlan below. The Gold Coast is gearing up for a tournament weekend with the Surfers Paradise GFC's All Tackle All Species Tournament.
More information on the SPGSFC website.