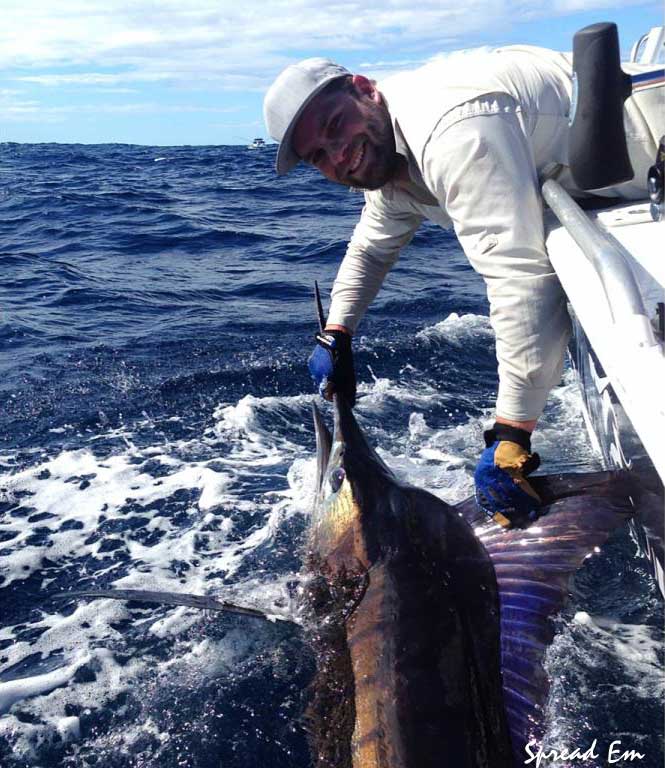 Catch up report from Sam Owen skipper of Spread 'Em fishing from the past few weeks – and these great photos in the slideshow above – scroll through the slideshow at top to see the other two shots. Sam reports that he fished solo earlier this month chasing blues out of Port Kembla on his 5.8 centre console Spread 'Em and went 4-4-1 boating the one weighing 153kg on 24kg. The first fish of the day he lost after half hour he estimated at an easy 250kg+. The weekend before last he was fishing north of Jervis Bay and went 3-2-2 stripes on the Saturday followed by 3-3-3 on blacks on the Sunday. Friday they fished alongside Richie's Dream Catcher and we ended the day with another 3-2-2 blacks. Fishing with Sam was Ian Osterloh (photos – great shots Ian) and Mark Doyle (angler).
Bermagui – Murray Stoddart sent me a report from a couple of days fishing last week on Bill Dunkely's Bill Collector out of Bermagui with Paul Nemes, Bobby Weight, Brett. Murray said the fishing started slow with bait a little hard to find on the 12 mile and out to the edge and Day 1 ended with all zeros made even more frustrating upon hearing of the bite up at JB and Ulladulla. Day 2 they fished north of the "Kink" in 120 fathoms where the water was a lot better around 24c with nice cobalt blue tinge to it and went 2-1-1 on a small striped of about 50kg. Murray says although it was a little fella it was one of the prettiest little fish he'd seen in a long time, it swam away with a nice little steamer in its shoulder (pic)!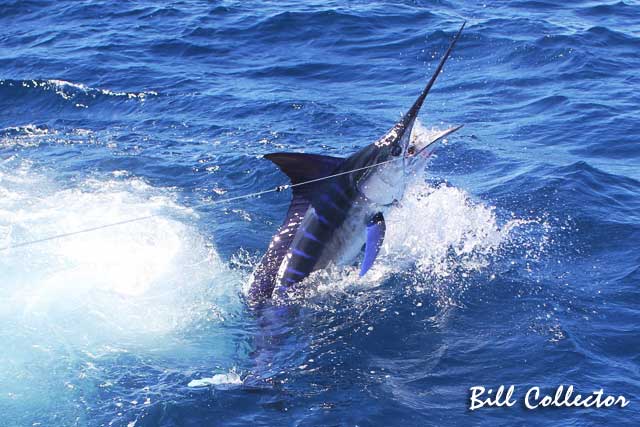 Exmouth – Despite the full moon another 91 billfish were tagged yesterday (Gamex day 2). Great fishing! By all accounts everyone is enjoying the tournament thus far with the fun and games set to continue with a 'Bling' themed dress-up Reef and Beef BBQ tonight!
Port Stephens –  I heard from Capt. Scotty Thorrington on Freedom that the inshore bite continues steady steady with most recording a couple of bites a day.  They are fishing light tackle mostly 8-10kg for the blacks up to around 50kg. Scotty says that the water is moving around a lot during the day and so if you're out in the morning and its not that special, it can change in the afternoon as good water moves in.
Cardwell – And I heard from Brett Ward who is usually a regular on the light tackle blacks off Cardwell a bit later in the year. Brett says that he's been interested to read the reports of the teeny ones in the north over the last few weeks.  Although he hasn't see any himself he was out Sunday tolling 30metre line off Cardwell and hooked up to a bigger than usual sized model about (and PB) black about 40kg that kept him busy for an hour or so on 10kg tackle. Brett says the fish took a mini hothead sprocket in custom colours and he hopes to find more fish of this quality!
We are currently traveling on the boat in and out of phone range over the next few days so my apologies in advance if any email/text reports are delayed until we get back in service!