Exmouth Gamex
After the great fishing over the three days of the AIBT (303 billfish tags for 40 boats – read on below for the section results), Gamex kicked off yesterdaywith some more great fishing. Jeni Gates tells me that there were a total of 102 billfish tagged on the first day – with 96 tag cards brought to the Gantry by close and unfortunately 6 tag cards disqualified due to not making it for the 8pm cut off!
While unlike the AIBT, Gamex is across species and not all anglers and boats are chasing billfish, among the significant gamefish catches was a 10.5kg Chinaman Cod caught and weighed on 3kg Line Class which is a pending record.
There are 62 boats competing. Thanks Jeni for the details!
The Broken Bay Invitational was held over the weekend as well and we look forward to hearing how that went soon!
JB-Ulladulla Magic!
Catch up report from George Lirantzis who has had a great week on the water! Starting on Tuesday when the fish fired north of Jervis Bay with most boats seen multiple fish, George, fishing solo ended the day with a 2-2-2! On Wednesday the fish had moved to the south and were in good numbers off the Ulladulla Canyons and they converted three from three (2 stripes and a black). Thursday the fish were on the bite again – 3-2-2. But that was nothing compared to the bite on Friday when they tagged 6 fish from 12 bites, 3 of which were double hookups. George says that one of the doubles were stripes that were both over 100kg mark that took off in different direction and they had no chance a getting to the boat! Mayhem went 3 from 6 with Chloe and Tom going 3-3-3 (no doubt Chloe will have an update for us on She Fishes soon).
While Saturday saw only two boat back out due to weather, they converted another 3 from 9 tagged with a couple more on the leader but unable to tag in time due to being two-up. Mayhem ended the day with 4 from 6.
Lets hope the bite continues as we they get back out over the next few days! Hope so George – thanks so much for the report!
More Gold Coast Blues
The week after the tournament (always the way) some more good blue marlin reports are coming in off the Gold Coast. Capt. Brett Alty's Mistress released 2 from 4 blues on Saturday. They have some footage from the fish on their facebook page if you are on FB. Capt. Ross McCubbin got one for blue marlin novice Dave on Lucky Strike and reported a few others including another couple for Jugs.
Teeny Tiny Townsville Black Marlin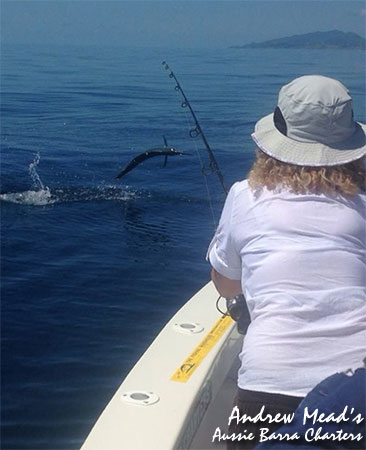 And back up north, Townsville GFC Clubbies enjoyed some absolutely ideal conditions for their social Horseshoe Bay (Magnetic Island) club points weekend. Keeping in mind this is very early season for the juvenile black marlin (typically the light tackle season fires from July/August), there are good numbers of the extremely small models going around. The Nicolosi family's Zuri got on the board with this little fella (top) and raised another that Alex said they would have put at 70-80cm long max!
(Don't mind the foggy GoPro pic – that's what happens in the tropics on days like these!) Alex also said despite having the tag pole ready, they didn't tag this little fella deciding that he was way too small!
They also dropped a big sail in the 30-40kg range on Saturday and saw another free jumper on Sunday. Alex said there was plenty of little bait fish on the surface and marking down deep, although no one knew what it was with the jig only bringing up pinkies, grinners and trevally.
Alex also reported the Gough/Davidson/Kane Silverback went 3-2-1 on Saturday in close on the northern grounds with a similar sized fish. And Andrew Mead also got one on the board on his long boat (above)! And also that there were plenty of mackerel and cobia around too!
AIBT Results
Section 1 – Champion Team T&R Billfish TEAM 'OUR TIME' Prize – GFAA replica trophy & 4 Engraved Shimano Tiagra 50W reels.
Section 2 – Runner Up Champion Team T&R Billfish TEAM 'ON STRIKE II' Prize – GFAA replica trophy & Craig Smith Marine Art print.
Section 3 – Champion Angler T&R Billfish: MURRAY TEASDALE Prize – GFAA replica trophy & Engraved Shimano Tiagra 50W.
Section 4 – Champion Team T&R Marlin: TEAM 'OUR TIME' Prize – 2 Shimano Stella reels.
Section 5 – Champion Team T&R Sailfish: TEAM 'LIVE ACTION' Prize – 2 Shimano Stella reels.
Section 6 – Champion Junior Angler T&R Billfish: ZAC BYFIELD Prize – Engraved Shimano Tiagra 30W reel.
Section 7 – Champion Master Angler (60+ years) T&R Billfish: MICHAEL CALLAN Prize – Shimano Tanacom Bull electric reel.