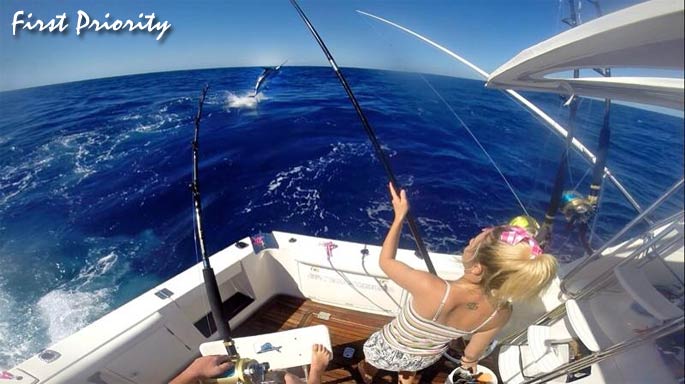 By all reports, another great tournament was hosted by the Gold Coast GFC with fishing on the two days over the weekend. Entrants joined from as far away as the Perth Game Fish Club as well from club closer up the Queensland coast including the Sunshine Coast GFC, Mooloolaba GFC and Hervey Bay GFC as well as many from the two local GC clubs – 30 boats participated.  There were 22 marlin tags recorded on day 1 (20 blue marlin and 2 spearfish) and 9 marlin on day 2.
The winning boat was Outside Edge from the Sunshine Coast with 3 blue marlin tags, taking home a prize pool of over $36,000.  In the Under 8m category, Surfers Paradise GSFC's Ripples won also with 3 tags (giving them second place overall) as well as a host of other prizes including Champion Male Angler (Lance Ripley), Best Tag Person, Last Billfish Day 2 and Heaviest Other Species Over 15kg (26.2kg yellowfin).
Castille III's Katie Ripper took out the Champion Female Angler award with her two blue marlin tags. Skipper for the comp, Matty Johsnon (Gypsy) says that she showed 'her vast experience in the chair especially with one of the blues showing why they are so well respected'.
Meanwhile on board Molakai, Jai Tooley took out Champion Junior Angler with a pending Junior Queensland Record for his 126.6kg blue marlin on 60kg line.
The photos above and below from the Caeli's on board First Priority with Ben telling me that they ended up an unlucky 6-5-1 on the weekend, going to show just how many fish there were around!
Congratulations to all who participated!