For those who missed this month's newsletter (you can sign up here so you don't miss the next):
Australian Marlin Fishing Destination Guides
The destination guides are under review.
Would you like to contribute?
Any tips or tidbits for marlin fishing in a certain destination will be warmly welcomed and contributors will be credited within the guide making it a BMFB community effort!
The first guide is mostly complete (click to read the Townsville Guide), but more are planned for destinations such as Cairns, Port Douglas, Sunshine Coast, Brisbane/Cape Moreton, Gold Coast, Port Stephens and Exmouth.
I've already received several of tips and information for the guides – thank you so much!
New Sunset Marlin Print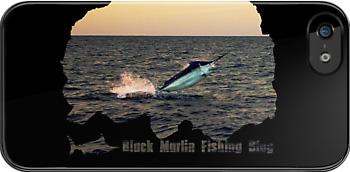 Available, free to download, as a desktop wallpaper or on a number of products in the online store including iPhone case (shown), iPad case, t-shirt and stickers.
The previous 13 desktop wallpapers are all still available for download here and are free for personal use. One-size-fits-all download (right click to save to your computer and choose "scale to fit" when applying as your wallpaper).
Upcoming Tournaments
The run of juvenile fish off the Sunshine Coast should make for another great event for the Mooloolaba GFC later this month and Port Hacking have a $60,000 prize pool for their event at the start of May. For more details:
Mooloolaba Billfish Bonanza: April 25-27