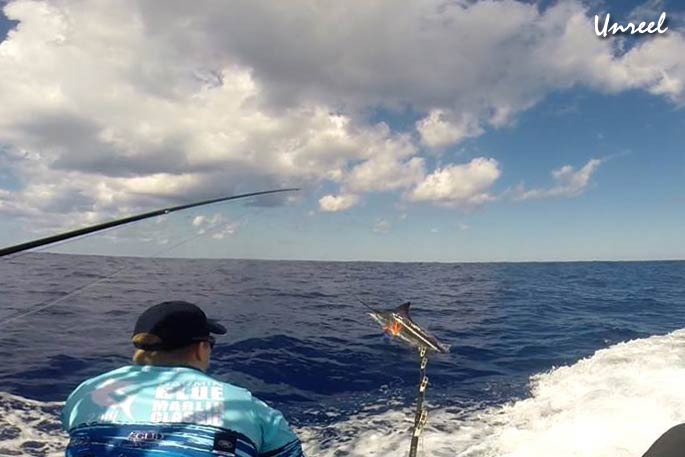 The Easter long weekend on the Gold Coast was one that won't be forgotten in a hurry for many local fishos. Great weather conditions meant plenty of boats were on the water enjoying it and the blue marlin definitely came to the party right along the coast and all the way to the Tweed.
Capt. Brett Alty's Mistress kicked off the party good and proper with 5 marlin releases on Saturday comprising of 4 blue marlin and one striped marlin. Brett reports that all of the fish were in the 120 to 160kg range and that there was a lot of bait out there keeping the marlin very healthy and fat with them feeding on squid and slimies. And fighting good putting the anglers through their paces!
They followed up again on Sunday with another two blues.
Likewise, Capt. Ross McCubbin on Lucky Strike who fished Easter Sunday for a 3-3-3 blue marlin. Ross reports the first fish was one about 140kg for Mark Morland, the second about 160kg for David Green and a third, a first blue for partner Jackie Taylor-Fox about 150kg.
He followed up again yesterday with another blue, jumping off a second blue as well as a stripe.
David McCallum's Unreel also fished the northern end Saturday for a 4-4-2, both blues to first time marlin anglers they put at 200 and 130kg.  While Sunday they didn't turn a reel, Easter Monday put them onto this nice stripey for Switchbait's Daniel Hickey (photo at top).
The big action yesterday (Monday) was to the south off the Tweed with Mat and John Stehmann on board Murphy's Law, fishing just two up, and who probably could have done with several extra sets of hands, ending the day with an amazing 9-8-5.
Matt said the water was electric purple with bait like he's never seen before. John caught 4 the blues, including one with no harness on a double hook up and Mat caught the other – all five caught on another Gold Coast product Larva Lures. Matt said one of the fish they had on the leader 5 times but couldn't get it that last 5 foot before the leader snapped – he put it in the 'massive' range with the other fish ranging from 150kg to 220kg – and another 3 of the misses dropped just out of tag range as well. Definitely a day to remember!
Also fishing the Tweed yesterday, Andrew Morely's Express who was also raising the fish, but the blues were doing their thing. They ended up 5-4-1.
And another not choosing the easy route, Glanville Heydenrych who is on his way back out after a good day fishing SOLO. Glanville  said he went 2 from 2, pulling the hooks out if the 2nd one whilst on the leader. He's two-up today so looking forward to hearing how he goes!!
Sunshine Coast / Mooloolaba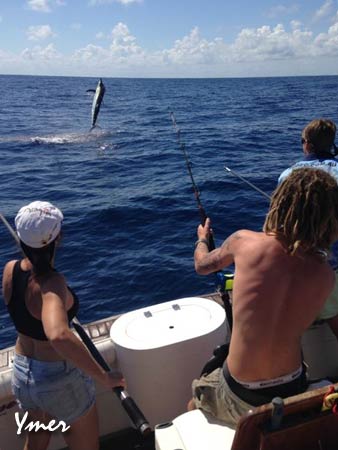 No doubt more reports to come but it sounds like there was some more black marlin action up the other coast over the weekend as well. Good timing in the leadup to the MGFC Billfish Bonanza this weekend.
A quick one in via Lachlan Tuckwell of Ymer hooked up to a bigger than usual black marlin on the 8kg light tackle on Friday. Lachlan says while the photo and video don't do it justice, they unfortunately lost the fish they put in the 200lb range (photo) after 3 1/2 hours for angler and marlin virgin Rhys Drakeley.
On Catapult  they also tagged two while Big Wave Dave tagged 2 and Misty also tagged one (Friday).