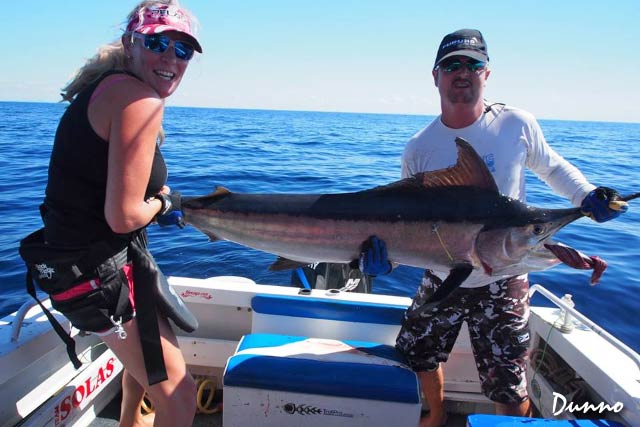 MGFC's President Nathan Douglass has called it (I'm not game to jinx anything!) The weather and nominations and most importantly fishing (for both light and heavy tackle), are all shaping up well for this weekend's Mooloolaba Billfish Bonanza.  Reports from over the Easter long weekend on heavy include Luna with Nathan driving raising 4, getting bites from 3 and tagging two blue marlin at 300 and 200lbs.
On the light tackle Mick and Nicki on Dunno went 3-3-3 black marlin at 18 mile on Monday.  Pictured is Nicki's first black marlin.  Terrible when you have to borrow a third tag flag for the trip home, isn't it! :-)
More from the Gold Coast
And the blue marlin bite on the Gold Coast continued into the working week. In his 20ft centre console Ocean Instinct yesterday Glanville reported a 3-3-2 and shared some pictures below. He's out again for Day 3 in a row today and also tells me that Mistress released another 2 from 7 while David Green, back in his 'tinny' Gemma 3 went 2 from 5 yesterday as well!