This year's 37th Viking Diesel & Electrics PORT HACKING 100 Tournament has yet again proved itself to be a hot favourite among the NSW club fleet, attracting 50 vessels and over 180 anglers. The tournament was originally set to run on 3rd and 4th May, however due to poor weather forecasts being predicted the tournament committee decided to postpone the event for two weeks, a tough decision that proved to be the right decision with gale warnings being issued for that original weekend.
With near perfect conditions for the new weekend all vessels headed to sea on day one to fight out for the 19 prize categories on offer with a total prize pool of over $50,000. Last year's T&R champion team from Botany Bay GFC aboard Conflict saw their good form continue with an early blue marlin tag taking them to the lead. Many of the fleet headed wide to the seamounts in search for some big blues, however most of the action was around the shelf. Notable mentions on Day 1 was SGFC boat Tantrum enjoying a double hook-up on yellowfin tuna with both weighing in over the 50kg mark and Botany Bay GFC boat Sniper who weighed a nice tiger shark of 275kg elevating them to the lead of the capture division.
Day two saw glass out conditions and again the early bite providing well for the T&R division with a number of marlin and mahi mahi being tagged, but it was the Conflict team yet again showing their dominance, with another two marlin tagged in short succession, this providing them with 28,500 points and back to back wins. The capture division was quickly becoming a nail biting dash to the finish line with 3 boats all in contention for top honours; however PHGFC vessel Scirocco ended up on top of the leader board with their 320.5kg capture of a tiger shark to angler Tim Heather on 15kg for 20,350 points.
Runners-Up in T&R was Reel Time (Broken Bay GFC), from Haulin' (Central Coast GFC), and The Cuban (PHGFC). Runners-Up in Capture were Sniper, from Carnage (Broken Bay GFC), and Tantrum (Sydney GFC). Champion Team T&R Shark was Sniper and Champion Team T&R Other Game Fish was Finatic from Botany Bay GFC.
Angler divisions won were – Champion Lady T&R was Karla Davidson on Everwilling (PHGFC), Champion Lady Capture was Pascal Paton on Carnage (Broken Bay GFC), Champion Junior T&R was Bailey Hoy on Haulin' (CCGFC), Champion Small Fry T&R was Luke Frith on Dark Horse (PHGFC), Heaviest Shark was Tim Heather on Scirocco (PHGFC) and Heaviest Other Game Fish was won by Karen Wright on Tantrum (SGFC).
The tournament festivities were rounded out with 140 people attending the Sunday night presentation dinner where PHGFC President Paul Barning thanked all of the sponsors and anglers for their ongoing support in making the tournament successful and looked forward to seeing everyone back next year.
Many thanks to PHGFC VP David Joyce for the report and congratulations to all involved!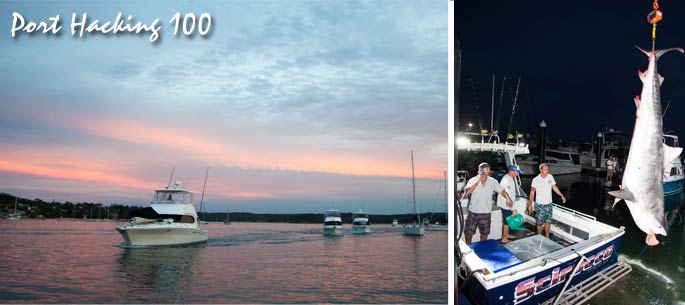 ---
A bit from here and there
Pic below of a striped marlin tagged on Ron Jacob's boat Shakara with angler Grant Smeets. And while not marlin fishing off Port, Calypso's Capt. Tim Dean had to admit defeat to his better half Rebecca in the snapper fishing stakes. Tim said he was simply a spectator as Rebecca stole the show – go Bec!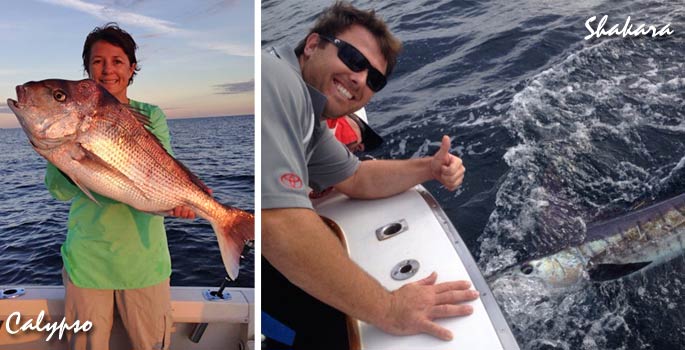 And last but not least, the Sanctuary Cove Boat Show starts tomorrow.  Gypsy's Capt. Matty Johnson is offering a ferry service to the show from Gold Coast City Marina fuel wharf to the onboard "Gypsy" $10 PP each way. Depart 8am from GCCM and on the hour every hour. Depart Sanctuary Cove on the half hour every hour until 5-30pm each day Thurs – Sun.
If you'd rather ride across on a 41' Custom Sportsfisher instead of taking the bus join Matty on board – he is taking max 12 passengers each trip – no need to book but first in best dressed. Call Skipper Matt Johnson on 0417 805 333 if you need more information.