Thanks to Camberra GFC Secretary Judy Sills for providing!
"The 2014 Canberra Yellowfin Tuna Tournament was held out of the South Coast fishing port of Bermagui from 17th to 19th May. This year, 81 boats entered with 290 anglers representing 22 game fishing clubs stretching from the Gold Coast to Tasmania who enjoyed three days on glorious weather.
As has often been the case in the 33 times the event has been held, the yellowfin turned up just in time for the tournament. The first yellowfin were reported prior to the first sched and then consistently throughout the three days. The boat tagging the most yellowfin was Bermagui boat Mr Hooker with 10, followed closely by Nevahome from Eden with 9. Eden Sport & Game Fishing Club took out both the male and female tagging awards – Billy Rebecchi and Gloria Sebley both tagging 6. The leading junior was Liam Faruggia from Jervis Bay and the leading small fry, Emma Moy from Bermagui.
In all there were 70 yellowfin tagged, along with 6 marlin, 16 sharks, 24 mahi mahi and 9 albacore as well as heaps of striped tuna to the juniors and small fry. Cooper Mills from the Victorian Game Fishing Club tagged more striped tuna than any other junior and Emma Moy was the leading small fry to add to her yellowfin tally.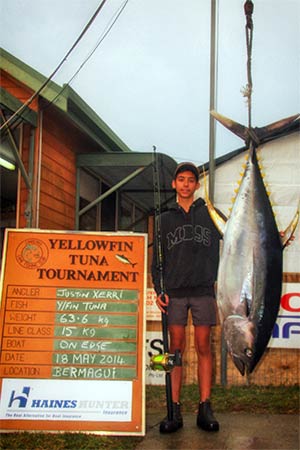 The heaviest Yellowfin stopped the scales at 63.6 kg and was captured by Justin Xerri from Jervis Bay fishing with his Dad on the good ship On Edge. On 15kg line, this fish also won the most meritious yellowfin category. The second heaviest Yellowfin weighed 57.2 kg to Frank Tallarida from Canberra on The Water Rat. The heaviest marlin was a good 127 kg striped marlin captured by Greg Hurst on Bill Chaser and the heaviest other game fish was a 24.4 kg short billed spearfish by Stewart Craig on Sea King. The heaviest shark went 156 kg and junior angler Jake Brisbane weighed a pending NSW, Australian and IGFA record blue shark – 148 kg on 6kg tackle. There were 6 yellowfin weighed as well as 3 striped marlin, 2 sharks, a short billed spearfish and a mahi mahi.
The lucky angler prize was a Haines Hunter 400 Prowler boat and Honda 30hp motor package supplied with the generous support of Haines Hunter and Honda. It was won by Greg Vella from Jervis Bay. Greg had to be talked into fishing the tournament by his cousin Ray Xerri and went home one very excited angler.
The Canberra Game Fishing Club would like to thank all of those anglers who made the trip to Bermagui for the tournament. Your support is very much appreciated. We would also like to thank our very generous sponsors, especially Haines Hunter and Honda who help supply the lucky angler prize. Generous sponsorship is also received from Shimano, GME, Tackleworld Canberra, Bermagui Bait and Tackle, Black Pete Marine, Halco, Hollowpoint and JB Lures. Thank you all for helping to make the 2014 Canberra Yellowfin Tuna Tournament an unqualified success."
SEQ Blues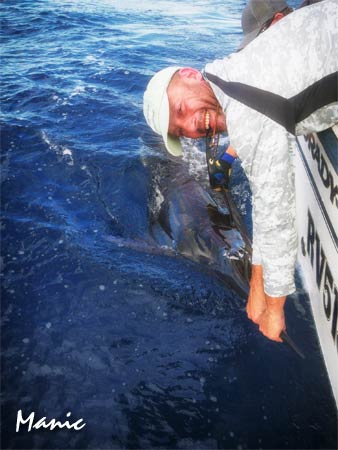 Looks like another weekend of great weather to get out on the water off SEQ. I've heard of a few fish this week including this one for Manic who fished wide off Point Lookout down to the Gold Coast chasing blue marlin in good conditions on Thursday. Nick Currey reports the first blue up was around 350lb which grabbed the short rigger lure and promptly spat it.  Working the area they raised another smaller fish around 200 lb which was tagged and released. Congratulations to Dino Rosa for finally tagging his first blue after chasing them for over 2 years. Great to see it all stick at last!!