Hot fishing all over is not what you expect in winter!
But its a BIG report today so use the links below to skip to the sections in the report if you don't have the time to read the lot..then come back later. It's well worth it!
1. Townsville (Cape Bowling Green) – the juvies are here!
2. Sunshine Coast – water cold and green out wide but sails still in number in closer
3. Gold Coast – yet more blue marlin. What a great year!
4. Sydney – warm water, still blues and stripes around
5. Western Australia – non stop billfish, mostly sails for the start of the season at Broome

Townsville's Cape Bowling Green
Report from Townsville GFC Club Committee member and young gun Jack Nicolosi who, on board the family boat Zuri, with several other club boats enjoyed a fun weekend on the water and overnight raft up at Bowling Green… oh and they found a bunch of marlin too!
Arriving on the grounds mid-morning on Saturday they found the bait pretty much right where they left it last year, and had a little black up within 15 minutes. It disappeared after a few strikes setting up a pattern that saw them go 4-2-0 within the first hour fishing.  The real hot bite was after the tide turn and gave them a final score of 7-5-2 including a first black marlin for Donna's brother Kevin. Fishing nearby Reel Crazy finished with 4-4-2, Silverback went 3-3-1, Maximus 1-1-1 and Princess C 1-1-0. Interestingly all boats encountered and caught dolphinfish which have been scarce at Bowling Green for many years.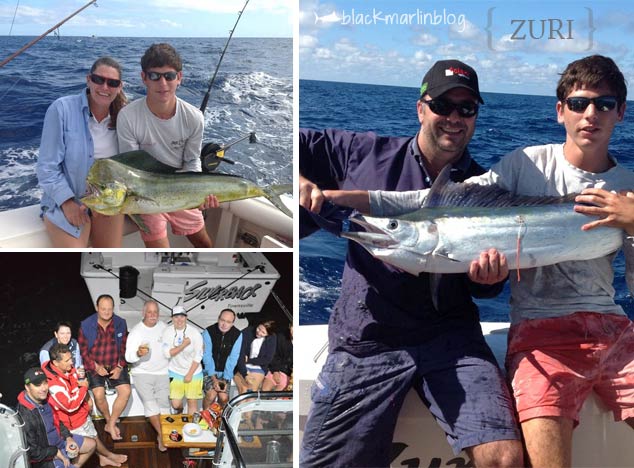 The overnight raft up lead to sore heads and dulled reaction times on Sunday but the fishing did not let any keen angler sleep it off!  Arriving at the grounds Zuri's first strike was a double header of little fish which resulted in Jack's cartwheeling off and Kev tagging and releasing his second fish in as many days. In the next few hours they raised countless fish without hookup. After heading over to investigate a free jumper, all hell broke loose with 5 hungry little blacks in the spread at once and only two angler on deck! The pattern continued throughout the rest of the day wrapping up what Jack calls one of the most spectacular and most frustrating days fishing down at Bowling Green with a 16-7-4 (bringing the total weekend tally to 23-12-6!)
With Rowan on the wheel, Silverback had a blinder going 8-8-7 on Sunday (and a very respectable 12-10-8 for the weekend – photo sequence below) while Reel Crazy was unlucky with a 1-0-0.
Another highlight for the weekend was Cathy on Princess C releasing her first ever sailfish finally after all the years of fishing and resulting in only black marlin instead! Well done Cathy!

Jack tells me that the vast majority of fish were sub 12kg (and a lot of those between 5-10kg making them hard to hook!) except for the last few on the lures a bit bigger. All in all a great way to kick off the 2014 light tackle season…I'll say!
Update: Michael Winterton tells me he took September Blue for a run to the Northern Grounds yesterday (Mon) for a 6-4-2 on Pakulas as well!
(Don't forget to read the Townsville Destination Guide if you are interested in heading up to fish CBG yourself! And the Toyota Billfish Challenge is in the calendar for Sept. 5-8.)
Sunshine Coast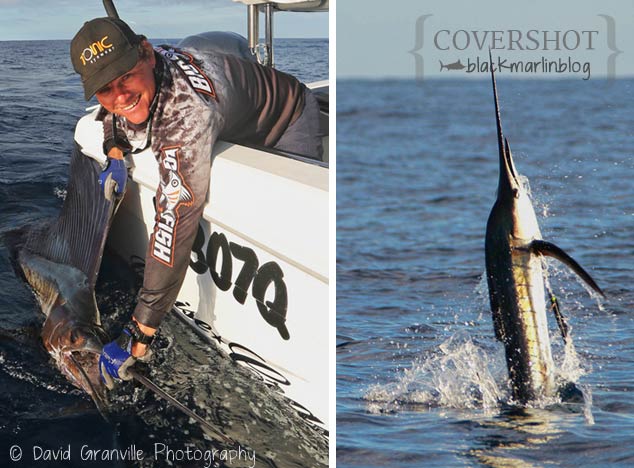 On the Sunshine Coast with good weather forecast David Granville made the decision to fish wide Saturday to try for a first blue for the new boat. Stopping on the light tackle grounds on the way to collect bait, they caught this sail for Trevor but it was a different story out wide – the water was green and surprisingly colder than the light tackle grounds.  Covershot was one of several boats finding the sails on Saturday (Catapult and Misty also among them).
On Sunday, Jamie Behrens was also out on the 18 mile off Mooloolaba on board his 520cc Haines Hunter Reel Hunter with 7 year old son Mitchell, in glassy conditions. Jamie said the water temp had dropped a little since the day before but the bait was good with gannets diving on the pilchard schools. They tagged 3 sails in the 40-50kg range, all on live bait.  After spending two hours recently hooked up and fighting a good sail before losing the fish, Mitchell made the wise decision to be an observer on these one, hoping instead for a micro black with a few around recently as well.
Gold Coast
More blue marlin are moving through the waters off the Gold Coast. What a great year they've had!  Glanville (Ocean Instinct) tells me he went 1 from 5 on Friday, with the successful fish a good one close on 400lb. Some more blue marlin bad luck on two more pulling the hooks right next to the boat and including a stripe didn't hook up just playing with the lure. He was out solo again on Saturday for a 1 from 1 with the fish seemingly moving on. Yesterday he and Sam Baillie were with Capt. Billson on Viking in some very good weather conditions and recorded another 1 from 2.
Glanville says that with winter coming it seems the patches of good water are much smaller and are moving through a lot quicker. But what a great season he's had notching up 26 so far!
Fishing on Saturday on board the ever consistent Jugs, Matt Caelli reports another blue as well!
Sydney
And speaking of good water, and slightly warmer than usual at this time of year (Rod Findlay tells me there's a lot of 19.5 when it would normally be 18.5 by now), I saw reports of two solid stripes weighed for Sydney GFC.
Rod also tells me that Halukalani and Hold Up both let go blue marlin while Tomcat raised another that did not stick, with a few reports of big dolphin fish around as well…all while they were out there fishing for yellowfin! Pretty weird for June….
Update: from SGFC VP Daniel Kirby who was on Halukalani with Tim Angus. Daniel reports that their unseasonal blue was a very healthy fish. It went crazy on the bite and had them doing 15knots in forward to keep up!
With the club season wrapping, the Findlay brothers Murrifin's 2013/14 season recap video is up. Check it out here.
Western Australia
Makaira Game Fishing's Capt. Jeda Ellens reports that its been another awesome start to the season for Broome with his guests notching up plenty of 10+ fish days since early May! In the last week the bite has been up and down but they've still recorded 24 sails and a black in the last 5 days alone. Their best day this season was 12 sails and the black and Jeda predicts that if things keep going this way it could be much better then average season!! (Jinx!! ;-))
Photo at top is Sam with is pending WA Junior record of a 21kg sail on 8kg on Sunday. Sam is a member of a fishing dynasty the Czabayski family of the Game Fishing Association of South Australia and was fishing with two more generations Ralph and Rolf – congratulations Sam!