The weather really turned it on yesterday leaving us in no doubt why the southerns flock north for winter sunshine at this time of year!  Townsville and Cairns boaties able to get out mid-work-week made the most of it and more juniors on school holidays are getting hooked on the sport!
The junior anglers in Cairns fishing on board Bounty Hunter repeated their success of the day before with another 3 fish including a first marlin for 9 year old Lilly and added another for Morgan, who at 15 years old is becoming a bit of a veteran!
Paul Dosen on Live Wire was responsible for the great pics (at top) as he went 4-4-3 with father Mario bagging the hat-trick. He also snapped the photo of Jay Edwards on Masterbaiter who hooked up directly beside ending the day with a 1 from 3.
In Townsville, John McConkey on Maximus also had great day on the little blacks with wife Anne and 7 year old son Lachlan who both released their first billfish. They finished the day with 7-6-4 including a successful double header. Lachlan said it was the best day of his life so far, so it's fair to say the young fella has caught the billfish bug! Well done Lachlan!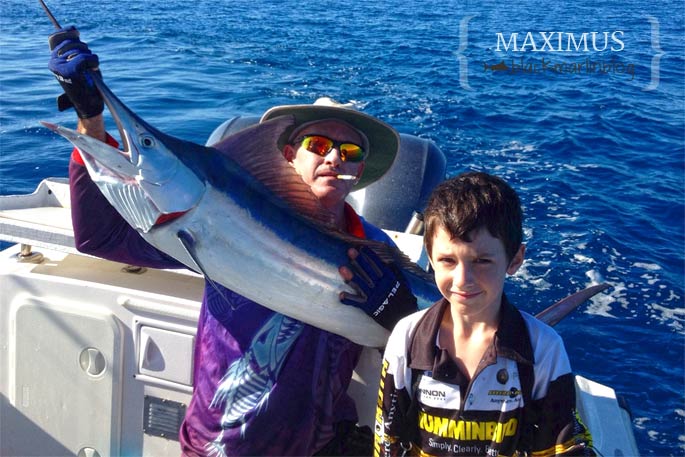 But while its been a refreshing change for the north, other spots continue to produce.
Makaira Game Fishing's Jourdain "Jeda" Ellens tells me that although the Broome fishing slowed slightly after a weather induced water temperature drop, they still managing pretty decent catches. They released another 5 sails and a black on Tuesday. More beautiful release pics below.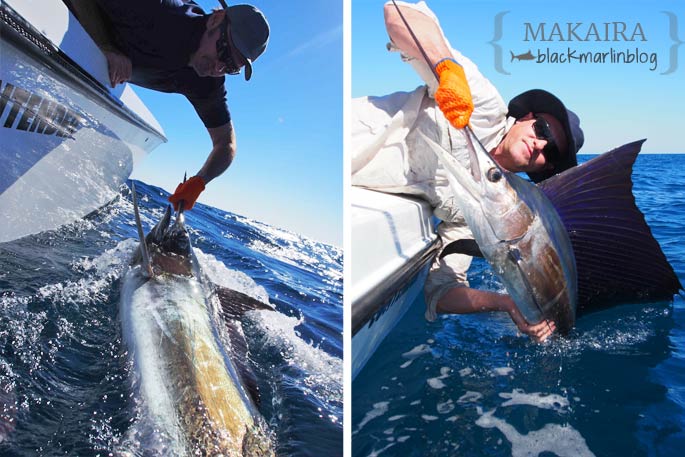 Meanwhile on the Gold Coast where the fishing never stops… Capt. Brett Alty's Mistress released another solid blue on Tuesday (pic to come).