Save the date – Cairns 50th Anniversary Tournament
The Cairns 50th Anniversary Tournament, commemorating 50 years since the very first 1000 pound black marlin capture, which put Cairns on the world stage. The 50th Anniversary Tournament will be held:
25 – 30th September, 2016
Download the announcement flyer here.
The history
On the 26th September, 1966, American crewman Richard Obach and Captain George Bransford on Sea Baby 1 were fishing a crew day off Cairns when they caught a large black marlin. The fish turned out to be a new World Record of 1064lbs on 80lb tackle, and historically was both the the first marlin over 1000 pounds to be caught on 80 pound tackle, and the first 1000 pound fish caught on rod and reel in Australia.
This capture put Cairns on the world fishing map, and was the catalyst that made Cairns the fishing destination that it is today. Since that day tens of thousands of visitors have enjoyed the fishing in the Cairns region.
While the industry has evolved and the vast majority of fish nowadays are released, Cairns is still the number 1 destination in the world to fish to catch a 1000lb black marlin!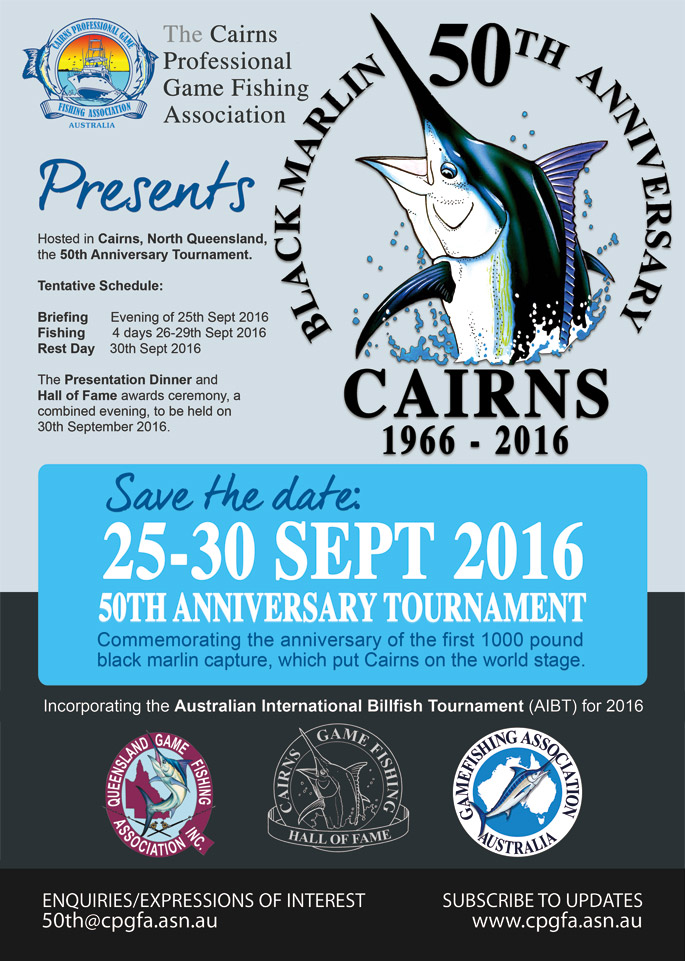 Subscribe to Cairns 50th Anniversary Tournament announcements and updates on the website.