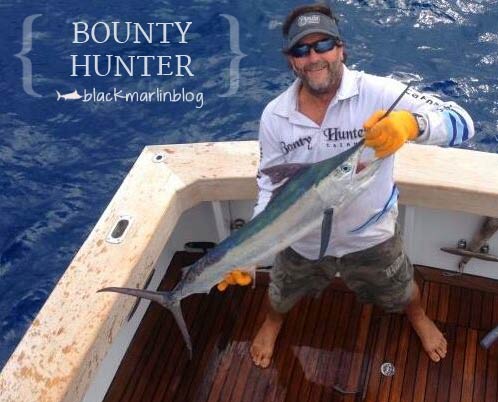 More juvenile black marlin reports from north Queensland with Askari owner Shane and family enjoying some time on board with Capt. Corey and team last weekend and picking up a few juvies in the process.
Yesterday the junior girls on Bounty Hunter were also at it again with a black a piece to Lilly and Morgan by 10:30! They ended the day with 4 tags from 8 bites.
Harvo on deck holding up one of the micro blacks on left.
Anyone interested in hearing the latest from Captain Josh Temple and the team on the Carol Libby will be amazed at how these numbers just keep growing! At last update at the start of July, they were up to 522 marlin in a single season (a world record number!) Well the latest is in. The total now stands at 1,153 raised, 938 bites and 690 successful releases in 78 days fishing (Feb – July 2014)!
The bluefin have been biting down south (hot then cold, hot then cold!) and congratulations to Karen Wright on Tantrum who weighed a potential Australian Ladies and World Record bluefin tuna at 143.7kg on 15kg line! Sydney GFC reports that Karen hooked up late in the afternoon just inside the well known 'Heaton's Hill' and fought the fish for just 30 minutes. Well done Karen!
I'm out of phone/internet range for a few days now. See you on the flip side!