Cairns Giant Black Marlin Season
A report from Surfers Paradise GFC's Peter Hargreaves who is working the deck on private boat Serendipity, a 73 Maritimo with Capt. Nick Thonemann. They have been fishing the Bank and Opal Ridge for the past several days with the owner Balfour Irving with his friends and sons and finishing the trip with a total of 2 from 5. The 2 were from a double hookup with one 400lbs and the other 800 plus. Peter tells me that first time angler Eddie Mallen got the 400, and Mikey Irving got the 800, his second marlin ever. Well done guys!
Nearby and staying close to town for the hospital shift ( ;-)) Capt. Bobby Jones' Iceman also released one about 450.
Heading north a little quieter for boats in the Middle. Capt. Dean Beech is at the wheel of Onsite this year and got out late on his first day to release a smaller one  before heading into the anchorage.  Nearby he tells me Capt. Brad Craft on Castille got one as well.
Up the top, not the same success experienced as the day before for boats fishing 7 and 8. Many reporting soft bites but a few fish around there and up higher. We released another on KEKOA on 10 and raised a few more.
Weipa Tournament Results
While I don't have full details, I received these great pics from Rhys Moore who was fishing on Duyfken with Capt. Kim Andersen at the wheel who stormed home with 6 tags on the final day to steal the win.  Overall there were 64 billfish tagged (3 black marlin and 61 sailfish) from 128 strikes and 90 hookups over the three days of fishing.  Duyfken won with 13 tags overall with Reg Moore (5tags) winning the senior male division from Stav Bogiatzis (3). Andrea Kennedy was Champion Female Angler (5) from Nicky Perriman (3).
And junior angler Lewis French on board Wine Down blitzed them all to take out Champion Junior Angler and Champion Angler Overall with 8 of his teams 9 tags. Wine Down also took out the Runner Up trophy.

The most black marlin tagged was won by Reid Benson on countback with his fish on the first day. The Heaviest Other Gamefish was a 13.0kg Spanish mackerel caught by Jay Edwards.

WA, Montebello Island
Blue Lightning Charters Capt. Chad Mills has been a busy bee over in the west fishing back to back weekly trips around the Montebello Islands and out for another 8 days at the moment. The lovely Leah who is also working on board tells me that they have been focusing on billfish on the last day of each trip with the last group releasing a black. And they also had a 3 day game fishing trip on the Reely Black over the weekend for guest Adam's 30th. The guys from Perth were stoked to go 1-1-1 marlin 6-4-3 sailfish and it was the first time for all to see a billfish, let alone catch one and was well the biggest fish ever caught for each as well!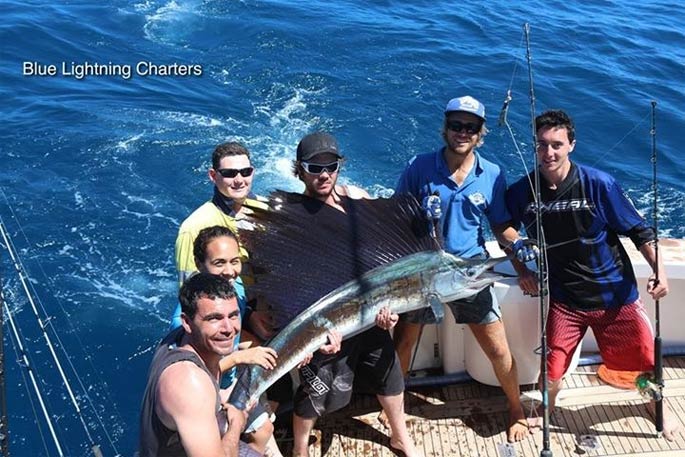 Sunshine Coast Blues
And while I'm still waiting for the Sunshine Coast tournament report (hint, hint – haha), I received these pics from the Sunny Coast Rob "Smithy" Smith who released this 250lb blue on Sunday afternoon for angler Darryl Lund.  Darryl is a long time ANSA member and just joined the SCGFC this season and its his first heavy tackle fish on his own new 80W and his own Top Gun ball bearing Nightmare lure.  Rob says they also decked a 16kg mahi mahi. Well done Darryl!