At the top of the Ribbons yesterday I heard from Glanville again who is on deck for Capt. Bill Bilson on Viking II. Glanville said they did a bunch of bait fishing in the morning before putting the lines in for an unreal bite going 3 from 3 in 30 mins – so hot they couldn't get the spread out.  It slowed a little after that and they managed another 3 bites but unfortunately could not convert jumping two off and pulled the hooks on the third which was a nice one.
Capt. Dean Beech on Onsite fished a little further down the track for 2 from 2 at 250 and 300lbs.  Nearby Capt. Ashley Matthews on Reel Easy caught one he called at 750lbs for Zac and dropped a bigger fish earlier that he said would have been right up there.  I also had a catch up report from Ashley with a 200 and 800lb-er also at Number 8 Ribbon the day before for Airlie Beach boys Zac and Matty.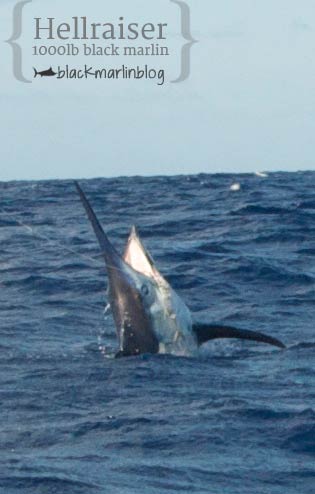 Speaking of catch up reports, I had a big one from Capt. Steve Ahler's Hellraiser from Monday.  Steve was fishing Cooktown locals, Russell Bowman and his wife Monique, and with Monique in the chair for the first time caught a marlin that Steve called over the 1000 lb mark. Russell followed up after with a 350lb-er, both late in the afternoon on Monday, 2 from 3 bites.
Congratulations Monique!
And another catch up report from Tuesday from Capt. Brett Goetze on Amokura who went 1 from 2 on the first day of his new trip at 500lbs.
Fraser Island Blue Marlin
And a report from Capt. Russell Guage on Too Easy who has spent a couple of days fishing off Lady Elliott and Fraser (via Capt. Ross McCubbin – thanks Ross!)  In the 2.5 days they saw 15 blues, had 10 bites and caught 4 and saw one big fish that he put at over 700lbs!
Sunshine Coast Tourney Report
With thanks to Rob Smith for passing along:
24 teams competed and Day 1 saw the majority start on the light tackle grounds which looked full of promise and although strikes were recorded it was a slow day over all resulting in 1 blue marlin tag to Privateer. (Unfortunately an over length leader lead to nil points for Privateer, however they had found the fish, raising 4 blue marlin including a double header and had every chance to get amongst them on Day 2).
Day 2 saw the majority of the fleet head wide from the Northern Noosa Canyons to the Circle and the bite was consistent throughout the day with around 20 blue, black & striped marlin hook-ups reported. By cease fishing 6 boats, Cat A Pult, Never Home, Whitehorse, Privateer, Reel Capture, Sea Star and Capricorn had all tagged heavy tackle fish resulting in a count back win to Team Catapult.
Final standings:
Champion Team – Cat A Pult 1500 points
Champion Angler Overall – Mark Holland 1500 Points
Champion Angler Runner Up – Kourtney Kersnovske 1500 points
Champion Male Angler – Light Tackle – Brad Skinner 352.5 Points (pending Qld Record Wahoo on 8kg)
Champion Male Angler – Heavy Tackle – Mark Holland 1500 points
Champion Female Angler – Heavy Tackle – Kourney Kersnovske 1500 points
Champion Angler Other Species – Brad Skinner
Champion Boat U/7m – Never Home 1500 Points
Champion Boat O/7m – Cat A Pult 1500 points
Runner Up Boat O/7m – Whitehorse 1500 points
Congratulations to all!
And a quick Weipa follow up
And lastly just a quick follow up from yesterday's Weipa tournament report – there were 18 boats with 54 anglers including 4 juniors competing. What a great result for the tournament only in its third year. And I heard so many great things from the competitors fishing for the first time as well who are keen to return. Congratulations to all involved!