The toast of the day yesterday was the team on board Top Shot with Capt. Ross Finlayson, Capt. Laurie Wright and Andy and Jay on deck putting angler Stephanie Osgood Choate onto a pending Ladies World Record black marlin on 50lb. The record, which has been unbeaten for 38 years (1976) has been well and truly overtaken by this fish which weighed in at 1,111lbs (previous record was 876lb). Congratulations to Stephanie and the crew!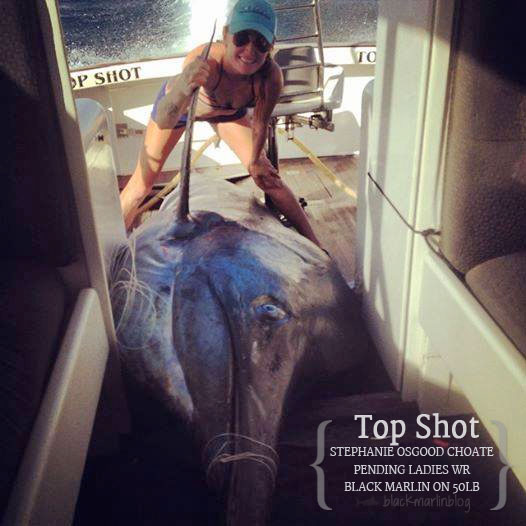 The fight time was 1 hour and 50 minutes and the fish was caught on the hot spot of 2014, Number 10 Ribbon Reef. This tops off a great weeks fishing for the team who have also put anglers, Stephanie, Tim Choate and Elida Grabowski onto some really nice fish. Hopefully some more details to come.
Elsewhere at the top it was good fishing as usual with plenty of good fish around again.  I snapped this shot of Capt. Corey Hard's Askari in action nearby. Corey's been notching up some more good numbers and will have a catch up report from him soon too.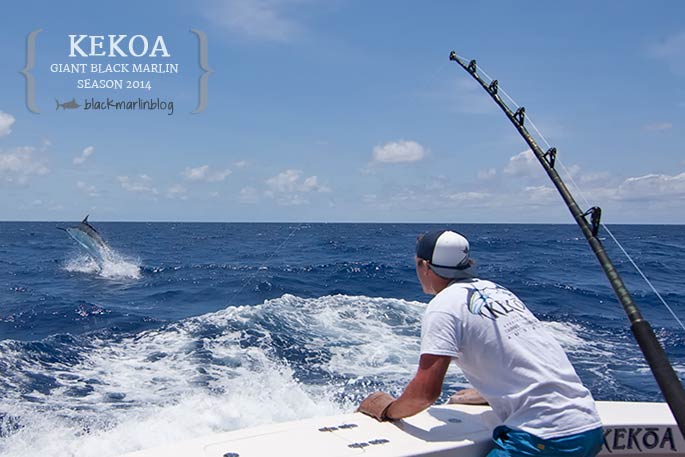 On Capt. Luke Fallon's KEKOA we released three at 850, 400 and 350lbs and jumped off another real nice one (photo). And nearby, Capt. Tim Richardson's Tradition released one about 400lbs and lost another nice one after a 90 minute fight.
Capt. Dean Beech on Onsite got another beauty at 950lbs and when we all were heading back into the anchorage to enjoy food and drinks, Capt. Haydon Bell on Kanahoee was still backing out to sea. I'll try and find out how he ended up!
I had another message from Raffi on the private boat Serendipity with Capt Nick on their way through to Princess Charlotte who stopped in at the rock (Lizard Island) for 1 night and 2 days of heavy tackle. They released an 800lb-er Wednesday for James Whitelaw and then went out yesterday really late after 4pm and had an awesome afternoon hooking up almost straight away releasing one that they put at over 1000lbs for the owner Nicky Irvine (and that performed an incredible aerial display) and followed by a 950lb-er 10 minutes later for Di Baynes. Incredible fishing!
And last but not least, in the Middle Capt. Daniel Carlson's Little Audrey finished up another top 4 day trip with 5 fish at 950, 700, 600, 500, 200. They almost ended on another big high yesterday losing another big fish about 950lbs after 2 hours.
Many more fish around I suspect and so I'm hunting down the reports!
Update: While its been a little slower down the bottom another report from Andrew Tivey who says that he fished Linden Bank Tuesday and Wednesday this week on Paul Campbell's private boat Re-Fueled. Andrew says that the fishing was reasonably slow but they did get a nice fish about 800lbs that ate both skip baits on 50's so it kept the 3 man crew pretty busy with lots of laughs!