Even the seasoned skippers are shaking their heads in wonder as the Cairns black marlin season 2014 continues to deliver.
And one such skipper, Capt. Corey Hard on Askari continues his dream run.  In the past three days he's released another 13 marlin to put his total for the Dreamin' On / Levante / Askari / Emerald Lady trip at 58 in 20 days fishing. And that's only his total. The other boats are certainly getting into them as well (I believe that both got two each yesterday….I'll ask Sharky the Halloween lobster when he wakes up ;-)).  Wednesday they released 4 including a 700 and 800.  Thursday was another three including the one that I took the picture of in the report below that Corey put at 650lbs.  And Friday (yesterday) they added another 6 including what Corey calls one 'real one' over the mark.  Just jaw dropping stuff.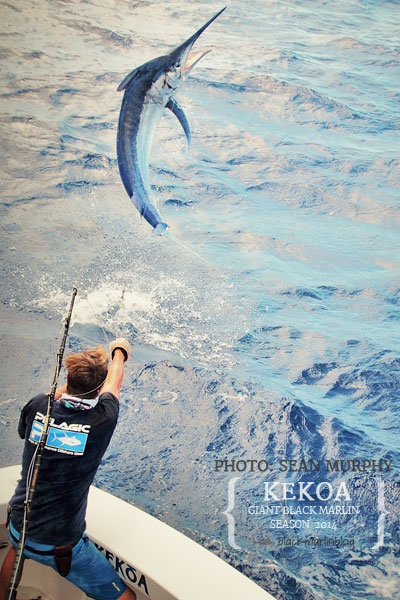 Also fishing nearby and also on a good day yesterday with Capt. Luke Fallon on KEKOA we released 5 from 7 to 600lbs putting us on 9 for the trip thus far and into Cooktown tonight.  Photo left from one of our guests Sean of one of the smaller fish yesterday.
Capt. Dean Beech's Onsite released one from two, another nice one that he put at 800lbs.  Capt. Tim Richardson's Tradition tagged a smaller fish and missed the bite out of a big one and encountered the 'sea monster' free feeding.  And Capt. Tom Francis Ultimate Lady has returned to the top and caught a smaller model and missed a better fish at the end of the day.
Catch up report from the day before (Thursday) when I told you that Capt. Haydon Bell's Kanahoee was last seen backing out over the horizon at dusk…. well Haydon tells me that they fought the fish for 6 and a half hours before getting her beside the boat and on the leader at 7:30pm, a fish that he called over 1200lbs…and a super human effort for angler Tim Dobson on stand up 80!!  Well done Tim!!
Down the Middle, the fishing has been pretty consistent as well with big fish making up the mix. Capt. Tim Dean on Calypso capped off another great trip with his Texan guests adding two more at 400 and 950+. While Capt. Bobby Jones' Iceman also returned to port for changeover with a tally of 7 in 5 days including three over 900lbs and one of those one that Bobby put at well over the mark for angler Adam Furst! I heard that Capt. Daniel McCarthy's Moana III has also come up the Ribbons and released two yesterday as well that he put at 500 and 950lbs before lunch!
And another catch up report from Capt. Brett Goetze on Amokura.  Brett says they they fished Thursday for just the one about 500lbs and then yesterday started out with another small one at 200lbs. Then followed up with a big girl for owner Darren Sandy's father John that they got beside the boat in 6 minutes that Brett put at 1000lbs.  Well done John!
And a report also from Capt. Leigh Bradshaw on the Revive who was just back into Port Douglas yesterday after a week on the reef and released a 150, 400, 150 and for the owner Bill a 600, 800 and a nice one at 1100+!
And yet another catch up report, this one from David Crocos who you may remember from his epic trailer boat batttle down at Number 3 Ribbon about this time last year (I will find the report link and put it up – stay with me).  David tells me that he also just got back into Cooktown last night after 3 days fishing the Ribbons.  He started at Number 7, planning on heading up to 10 but the fishing was so good he never made it past Number 9 Ribbon. Over 3 days he had 16 strikes hooking 9 and after a bunch of thrown hooks and broken leaders he released 4 at the boat including this little fella that played up like a 20 pounder and wore itself out!  The others he released were around 300, 400 and 600lbs and he also had to break a big girl off at 5pm yesterday after 2.5 hours running out of time as he had to return to Cairns to work today… ahhhh work! Well done David!!