After a quieter day at the top the day before (outside those who were lucky to be catching them and catching them big – see yesterday's report), the fleet spread a little wider yesterday. I have reports of fish caught all the way along as some boats also head south and towards Cairns again.
After being the spectator the day before, Capt. Tom Francis' Ultimate Lady was the star of the show with three marlin in the small to medium range released on Number 10 Ribbon. I snapped this shot of him in action again above.  Also on Number 10 on KEKOA, Capt. Luke Fallon put birthday boy Peter onto his first Cairns season black marlin about 300lbs not long after the baits went in the water. And despite another bite and a follow by the sea monster, that was our day.  And Capt. Kim Andersen's Duyfken also released a fish about 400lbs at Number 10 before beginning his southward journey towards Cairns.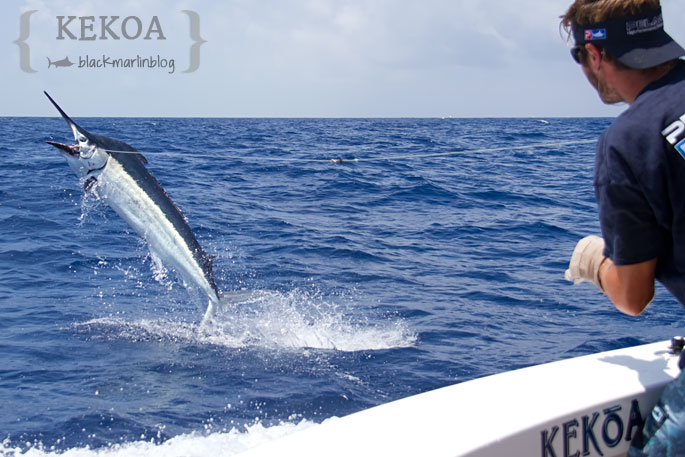 On Calypso Capt. Tim Dean released two from three at Number 7 Ribbon Reef while Capt. Damon Gruzdev's Kyrenia has released two from three in the 200-550lb range at Number 3 Ribbon in the past two days.  Damon said that he had a double on with the 550 which was a real big one they lost after 10 minutes.
Also in the middle and now counting down in the last week of the big 30 day adventure, Capt. Corey Hard's Askari converted one from one at 450lbs. And down the bottom but out of range I had the relay that Capt. James "Jimbo" Bladin's Black Magic released one about 500lbs yesterday following up from a nice fish about 900lbs the day before.
Western Aus Sailfish
Meanwhile Western Australian fisho's are enjoying another great run of sails.  While Eddie Lawler's Peak Sportfishing released 17 on Saturday, Josh Bruynzeel on On Strike is on 43 in 4 days of fishing as well!  Off Broome, Broome Fishing Club's Jeff Cooper tells me that they relelased 14 sails and a black marlin on14 sails and a black marlin on Broome Billfish Charters's Billistic yesterday.
Catch up report from Kaizen
And a catch up report from David Trask who has returned after spending another several days fishing on board Capt. Russell Caporn's Kaizen. They ended another great trip with 10 for 5 days of fishing with two that Capt. Russell put at over the mark, 3 more over 900lbs, 1 at 750lbs, 1 at 500lbs and a few rats. Stills from the GoPro below.