Seems like over the past day things are starting to turn around after a quiet turn. For boats fishing the Port Douglas Marlin Challenge, there was a bit more activity with 4 tags recorded for the day.  Heff reports that there were a total 9 hookups resulting in the 4 tags for Gorilla (100lbs at Escape Reef), Wild Turkey (100lbs at Opal Ridge), Moana III (300lbs at Opal Ridge) and Rat Bag (800lbs at Ribbon No 3 – photograph above.)
The current standings are:
1st – Moana III 2 tags
2nd – Saltaire (Joker) 1 tag
3rd – Gorilla 1 tag
4th – Wild Turkey 1 tag
5th – Rat Bag 1 tag
Outside the tournament, more activity for the marlin fleet as well. Up the Top, Capt. Tom Francis' Ultimate Lady caught two including a nice one about 800lbs wide of Number 10 Ribbon and tells us the Capt. Haydon Bell on Kanahoee also released a real nice one the day before that he put at 1100lbs! Capt. Tim Richardson's Tradition also tagged one at 300lbs for Chrissie.
In the Middle, Capt. Tim Dean's Calypso released two at 250 and 350lbs from four bites. And on KEKOA with Capt. Luke Fallon, we also released one about 600lbs for Matt from Shellharbour GFC on the first day of our new trip (photo) and raised a couple more.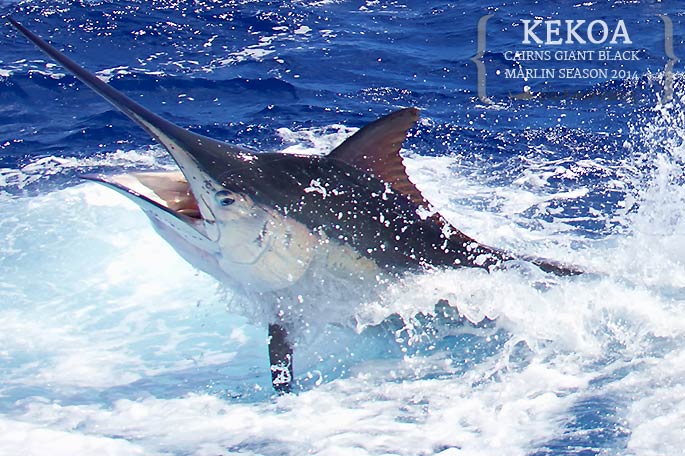 Down the track at the bottom of the Ribbons, Capt. Brett Goetze's Amokura had a look out wide and went 2 from 4 on blues, both around the 200lb mark. Brett says they also jumped one off around 500 and got stuck into some nice yellow fin up to 50kg.
On the Bank, the big three boat 30 day extravaganza ends today after such great fishing for most of the trip, Capt. Corey Hard on Askari tells me its been a bit tough for the past four days with a bite a day only resulting in one small fish.  Corey promises to update on the trip stats after today but here's hoping they finish it off on another high today!
Catch up reporting again from Capt. Brent James' Mauna Kea who was back in Port yesterday after a few days out. Lochie says that they started out with a nice fish at 400lbs on the first day.  And then on the last night of the trip, around 5:30pm and put Perry (Brent's dad) on the leader! Some screen gabs from the video footage below.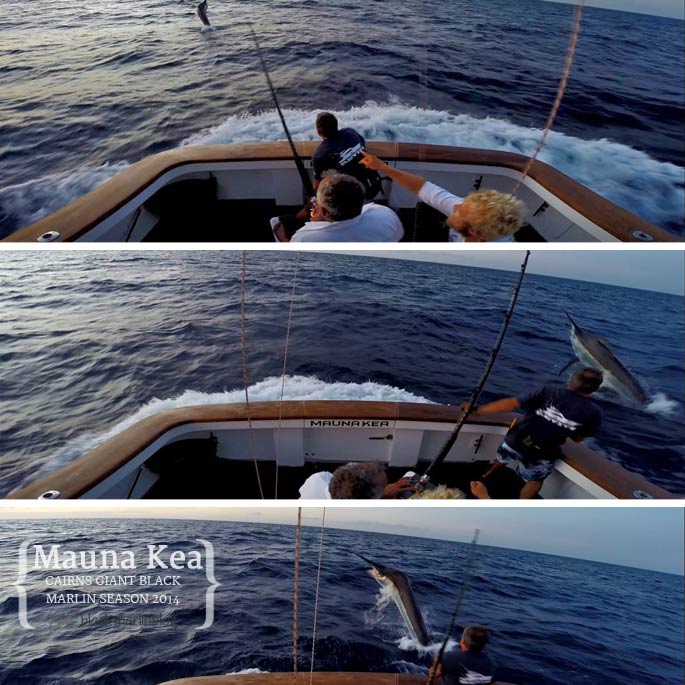 And lastly, a quick report from Michael Umback at Cape Moreton who says that when he could keep the skipping gar away from the packs of kingfish and wahoo, he went 4-2-1 on billfish catching an estimated 15kg black marlin and also pulling the hooks on a nice sail. Good to hear for the summer ahead!