Reports from all over today so will start at the top and work down and then west!
The Port Douglas Marlin Challenge is over for another year, and while I don't have a final report as yet (will add up when it is received), I can tell you that the standings didn't change on the last day with a bit of a slower bite overall. Capt. Daniel McCarthy's Moana III took out the Champions trophy with two tags in the four days from Capt. Daniel Bergamo's Wild Turkey on countback.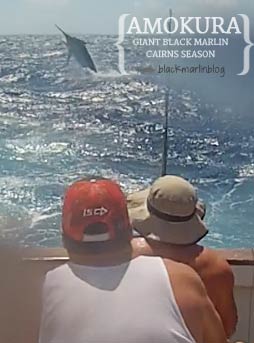 Outside the competition, some more big fish. Capt. Brett Goetze's Amokura only fished for 1.5hours yesterday putting the baits in with an early start and by 9:30am was hooked up to a big fish that Brett put at well over the mark (photo). It was the first marlin for a very happy angler who understandably took the rest of the day off to celebrate!


Catching up from the past few weeks after some good fishing down the bottom also on Capt. Darren "Biggles" Haydon's Bounty Hunter. Biggles tells me that he just finished 6 days for 6 fish including a couple of nice ones at 900,750lbs as well as 4 little ones. The trip before that they caught 8 in 7 days fishing with one at 999, 800, and 4 between 500 and 600lbs! Season '14 continuing to produce!
In the Middle yesterday there were a few more good fish around. But having to run in, I'm not sure how they ended up. On KEKOA, Capt. Luke Fallon put Neville onto a nice one (below) that he put at 750lbs before we headed in to Cooktown for the night. Update: Capt. Tim Dean's Calypso released two at 900 and 500lbs for ex-Cool Running's owner (and otherwise known as Jye's dad) John Clayden!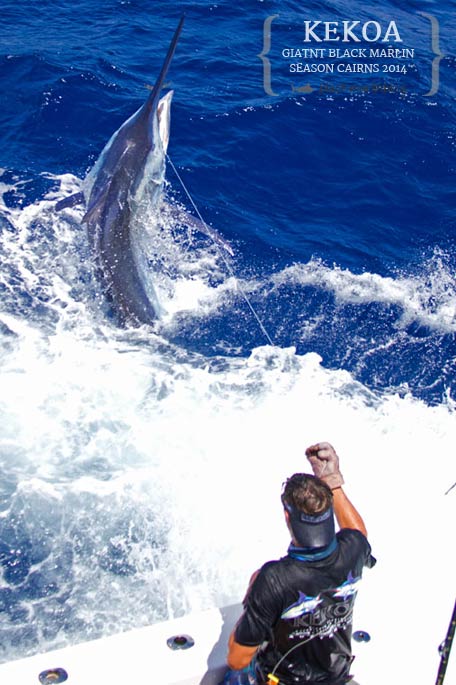 Fraser Island
Big Fish Small Boat's Al McGlashan is fresh back from an epic trip to Fraser Island catching a bucketload of little black marlin. Al says that most the fish were caught in water less than 15metres and that they also managed to get the world first marlin on Halcos brand new C-Gar stick bait (all on camera for Big Fish Small Boats). Photo album from his trip below. Also the Hervey Bay Game Fishing Club's Game Fishing Classic was held over the weekend just gone and I've heard there were plenty more around this weekend as well. Club Captain Sarah is sending a report from the comp so stay tuned for that!
Gold Coast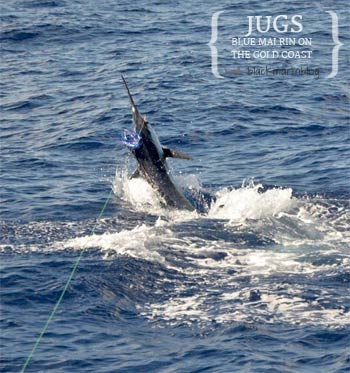 Report from Matt Caelli who tells me the blues have started to show up off the Gold Coast again. They released a couple on Jugs (photo) and Matt heard of a few more around as well.
NSW Central Coast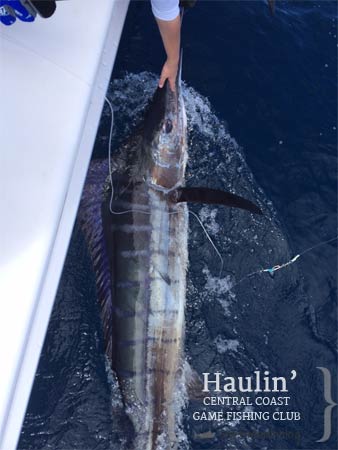 Dave Tucker sent me a report to let us know that the first marlin for the season for Central Coast Game Fish Club has been caught by junior Spencer Hoye on his dad's boat Haulin'. Dave tells me that it is the first time in the relatively new club's history that a junior has taken the honour.
The photo (right) is the second of the day which was the end result of a double hook up both on chair rods and the angler on this fish caught it stand up. A great effort by Reece for his first marlin to fight it standing up with a chair rod an being run around the side of the boat while they were backing up on young Spencer's fish.
Betta Billfish Bonanza Exmouth
If you, like me, wondered how the recent Betta Billfish Bonanza (Oct 31 – 2 Nov) went in Exmouth, I have come across the report in the club newsletter which you can read here. Some more great fishing with 125 tags (112 sailfish and 13 marlin) in 3 days fishing.
Another great Australian fishery!