In the north
In case you're not on the newsletter list, a reminder the Cairns 2014 Gallery is here.
More big fish were reported on the reef yesterday. The photo above from Capt. Steve Ahlers on Hellraiser of a big fish they released yesterday that he put at 1100lbs fishing nor.  And catch up shots below from a couple of their big fish in the last week (yesterday's report) from Capt. Adam Jordan on Iona 2.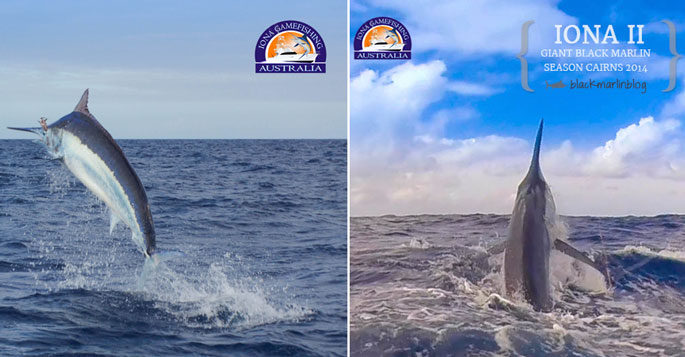 Also down the bottom, Capt. Daniel Carlson's Little Audrey went 1 from 3 with a 450lb-er for first time marlin angler Fin. And Phil got to drive for the first time on his 'new' boat while Capt. Dan headed down to take some happy snaps. Dan tells me he's feeling confident after his first photographic stint that he has the goods to be a top marlin photographer – I'm just waiting to see the evidence! ;-)
Further up the reef a few more fish. Capt. Dean Beech on Onsite went 2 from 4 with a 300 and 800lb-ers. He also tells me that Capt. Russell Caporn's Kaizen released a nice one and Capt. Corey Hard's Askari also released two from three. Further up again, on KEKOA with Capt. Luke Fallon we went one from three with a fish about 700lbs for the Hass (screenshot), while nearby Capt. Tim Richardson's Tradition also released one about 300lbs.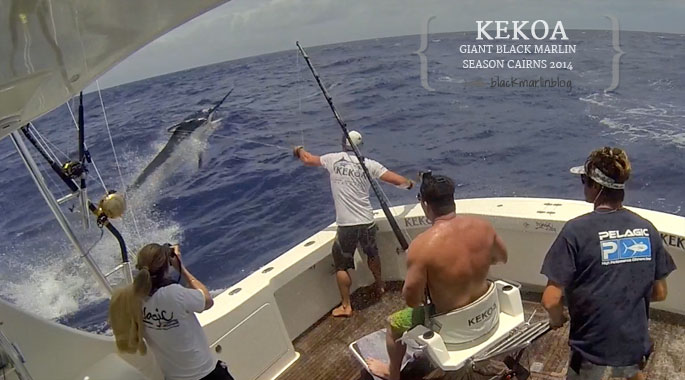 And a catch up report from Kyrenia's Capt. Damon Gruzdev who is on his way back to Port after a trip up to Number 3 Ribbon.  Damon tells me that he fished with Pete and Anthea and their now 14month old bub. Earlier in the year in July, Pete and Anthea fished with Damon on the little fish catching 4 from 5 on little ones with Anthea with the then 10 month old baby on board. On this trip, she caught her first heavy tackle marlin at 250lb, with Pete catching three at 300, 700 and 800lbs, in some pretty sloppy conditions with nary a complaint from bub!
Gold Coast blue marlin
More good news on the Gold Coast blue marlin front, I had a report from Mana Stack who is skipper of his little 25 foot Bertram Loyal to the Game. Mana says they he fished the Riv Grounds off the Gold Coast Thursday with brother Kane and tagged 1 from 2 blues. They only fished half a day for the fish they put around the 250lb mark but think if they had have stayed around for the afternoon bite it would have gone off! Mana says there is a lot of bait out there.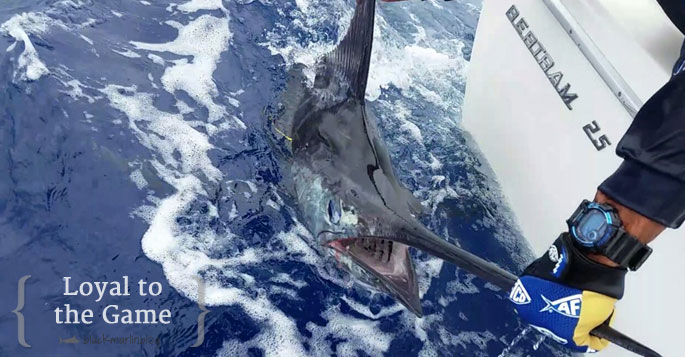 Western Aus, Montebello Islands
And over in WA, the Blue Lightning Charters team have come back to civilisation and gone out again on another trip. In their brief return to internet service Leah tells me they had another great week out at the Montes and did their usual stint of billfishing on the way back and for the big crew from all corners of Australia, released 5 sailfish and 2 juvenile black marlin.