More good numbers and big fish on the reef yesterday.  On the Ribbon's, still fishing well into late season for the first time in many years, Capt. Luke Fallon's KEKOA was among those finding some fish.  He went 3 from 3 on marlin including another big fish that Capt. Luke put at over the 1000lb mark, and a sailfish, all for Jason "Big Fish Hass" Hassett (photo).
Another having a good one up the Top, was Capt. Tom Francis' Utimate Lady. Tom released another big fish that he put at 950+ and a smaller model and lost another big one and a small one as well.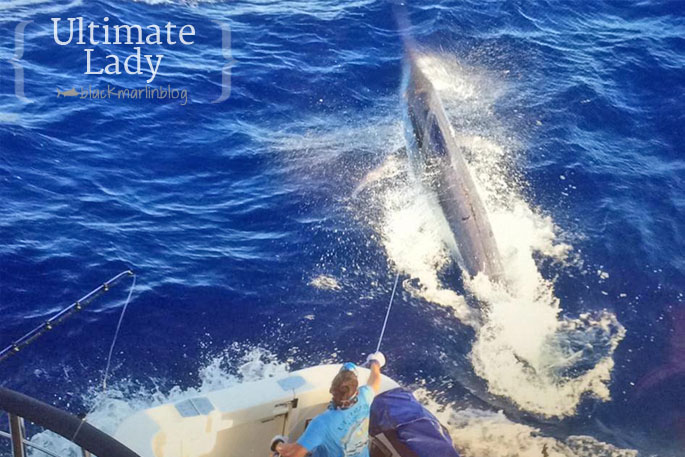 Capt. Tim Richardson's anglers on Tradition also released a fish about 300lbs while Capt. Dean Beech's Onsite released one about 200lbs in the Middle.
Down the bottom, Capt. Daniel Carlson's Little Audrey finished up a three day trip with hot three from three at 300, 200 and 200lbs.
Day 1 of the Yorkey's Knob Fishing Club's Aus Mining Personell Makaira Bullfight saw most boats fishing around the Bank and Opal Ridge. Simon tells me it was a slow morning with no fish reported by the first sked. But there were fish around on the Bank and at 11:55, the bite started with Gaye Benck off Pequita tagging a 250 pounder to start the fleet of 20 off. It was soon followed by Kaching with Paul Gibson grabbing a good fish, as well as David Cordukes on Deks followed by David McGeoch on Allure.
With the 8am start the tournament fleet are already fishing, and with 10 knots forecast for today, it should be another great day on the water!
And a catch up report from some really good blue marlin fishing off Fraser Island.  Glen Whitehead is fresh back from fishing with Southern Stroke Fighting Chairs Brad Carlin on board Aurora who released 8 blue marlin and a couple of little blacks in 5 days fishing. But Glen tells me the final tally was even better than that. Over the whole 8 days, they managed 15 tags from 35 bites, which were 13 blues ranging from 130kg to 250kg and two blacks about 60 and 70kg! Photos below.