Over the past few years the southern based fleet have had some really good fishing heading both north and south, to and from Cairns for the season. This year has been no exception and the crew on Calypso certainly experienced it at its best yesterday ending up with 8 from 11 for the day on their way south and onto Port Stephens.
Starting out off Fraser with a triple header of blues in the 400lb range, all successfully released (and no mean feat given there was only four on board being Dean, Micheal, Brad and Erica!) They worked the area a bit before needing to move on and jumped the last one off just before dark heading past Noosa Canyons.  The fish were 7 blues and one black marlin. What a ripper of a day! Thanks Deano for the pic!
Also fresh back from spending time in the Fraser Island vicinity, Surfers Paradise SGFC's Steve Morley who reports both blues and black marlin for his crew on Trophy as well. Steve says they fished two days off Fraser specifically targeting the blues with Ramjet on the Friday and beside brother Andrew's Express on Saturday. Trophy raised 13 hooked 10 and released 6 over Friday/Saturday while Ramjet went 2 from 9 on Friday.  Express went 2 from 9 on Sunday and Trophy also released 2 from 5 little blacks at Roonies while Ramjet released one.
All in all between the 3 boats 31 blue marlin were encountered and Steve says that they also saw a few free swimmers and free jumpers as well!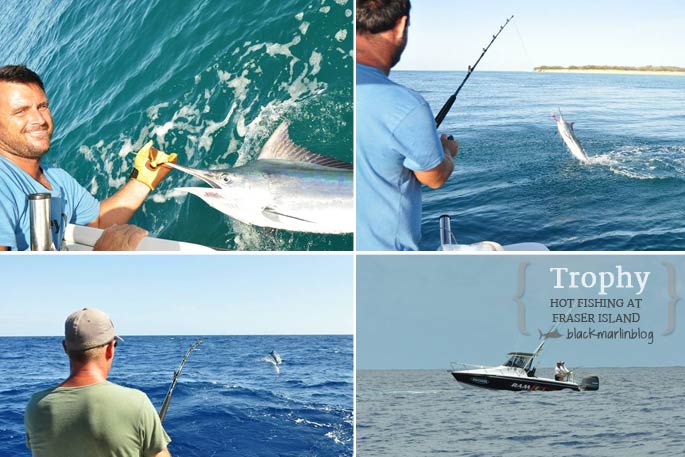 Meanwhile, just a few reports from the black marlin off Cairns: Capt. Daniel Carlson's Little Audrey released two at 650 and 250lbs. While Capt. Tim Richardson's Tradition got a small one and missed a big one.  Catching up from the day before, Capt. Corey Hard's Askari has a couple of days off in town. But they released one from two sailfish Sunday before heading in and jumped off a black.  And a catch up picture below from Capt. Brett Goetze on Amokura's fish from Sunday that he put at 750lbs for Cathy!