The summer fishing season couldn't have gotten off to a better start. In the leadup to the Exmouth Heavy Tackle Tournament (postponed to 12-14 December due to weather), Peak Sportfishing's Capt. Eddy Lawler has be notching up big numbers.  On Saturday he went 7-7-6 on blue marlin for the day and saw another free swimming blue as well as missed a couple of smaller stripes. Yesterday they followed up with two more blue as well as two stripes.  They were fighting one blue when a another fish ate a lure they were clearing only meters from our transom in what Eddy is calling the best bite of the season!
You can follow Eddy's fishing on Facebook here.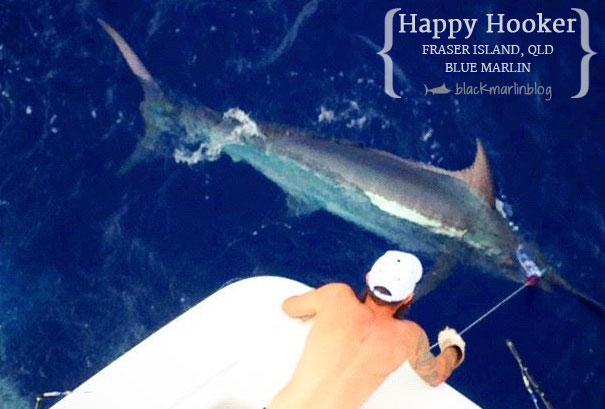 But it's not just the west coast firing, the little (and tiny) blacks are still making their way down the east coast with the usual heavy tackle blues making themselves known out-wide. Glanville Heydenrych's charge Happy Hooker has made it's way home to the Gold Coast and followed up on their 6-6-6 black marlin with number 7, a blue marlin target species at approx 400lbs at the top of Fraser as well as a bunch of dollies. Glanville's gearing up now to hit them in his trailer boat Ocean Instinct.  Also making his way home yesterday, Little Audrey's Capt. Daniel Carlson, happy to be back in Sydney. They released a blue marlin (first marlin for angler John Fordham) off Coffs Harbour and missed another two.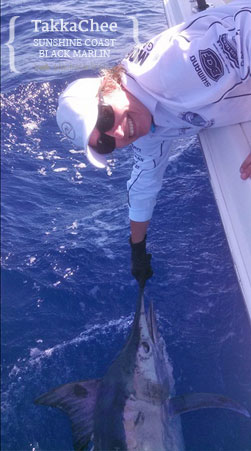 Jamie Behren's has been another out testing his new boat in the waters off the Sunshine Coast. With wife Jenni, Graeme (father) and Jamie off the 8 mile on Thursday on TakkaChee a Sailfish 218wa (replacing his previous boat Reel Hunter). Jenni was able to christen the boat with a nice little black which took a liking to a lure. Jamie says that post comp (Mooloolaba results below), there have been a few little black starting to show up off Mooloolaba, with most taken trolling gars or lures and predicts once the better schools of bait show up they will see more fish. And once the weather allows, plans to head out wide chasing the blues that have moved south from Fraser as well.
Arrows Express Mooloolaba Billfish Bonanza results have been shared by the club:
Champion Angler – Light Tackle: Steve Dahl
Champion Angler – Heavy Tackle: Dale Penhall
Champion Angler – Other Species: Ralph Bowler
Champion Angler – Overall Male: Dale Penhall
Champion Angler – Overall Female: Did not contest
Champion Angler – Junior: Max Proctor
Runner-Up – Junior: Jake Jongejan
Champion Boat – Over 7m: Liquid Asset
Champion Boat – Under 7m: Dragon Lady
Champion MGFC Boat: Bring It On
First Billfish Tagged: Steve Dahl
There were 23 boats fishing and they recorded 74 strikes, 64 hookups and 46 fish tagged including 14 black marlin and 2 blue marlin.
And the little blacks are making their way towards the Gold Coast as well with Grant Thomson recording 1 from 2 on Saturday morning with son Julian extremely happy to be on school holidays again!
Meanwhile Cairns played host to the Ladies Ribbons Tournament on Saturday and I hear there were several small blacks and sails to keep the ladies entertained as well as the usual host of other gamefishing species. A report to come but it seems that on the heavy tackle side, Elvis has left the building.  Ultimate Lady is still fishing and fairing quite well. Tom says that they are getting a fish a day. The first day of this trip they released a 500lb blue and missed another as well as a big fish but its been small fish, both black and blue since.
Capt. Corey Hard's Askari was one of the last fishing and wound up his season last week with 92 marlin in 60 days of fishing including one hot period where they caught 61 and 24 days!  A reminder when you're season videos are ready to send in the links. You can see the ones I have received so far compiled under the video tag here.