I have finally received a report from Saturday's Ladies Ribbons Tournament in Cairns. (If you have something to add, I'd love to hear it!) Thanks so much to Barbara for sending along!
All together 39 boats hosting 129 lady anglers competed on the day and while the gamefish were on fire (with a total of 91 weighed!), there were also eight billfish tagged.
The lucky teams tagging billfish were the (winners and grinners taking out Champion Team) on board Bounty Hunter with two billfish tags (marlin and sailfish), from the team on Pannawonika. The other teams tagging billfish were Kalira, Hellraiser and Wild Turkey, whose angler Jessica Lenehan, won Champion Senior Angler tagging a sailfish from a successful double header as as as weighing a pending Queensland 10kg line class female record for her captured 21.8kg GT which smashed the previous record weight!
But it was the team on Bounty Hunter that took home a swag of prizes including Highest Individual Point Scoring Gamefish weighed Junior (Lily Sims & Savannah Woolcott both weighing fish 7.8kgs), Champion Out of Town Angler (Anna Koziaris – From Melbourne), Champion Junior Angler (Morgan Brown), Runner up Senior Angler (Anna Koriaris), Champion Crew as well as Champion Team over 8m Boat – for Morgan, Anna, Denise and Lily!
While the marlin that were tagged during the Ribbons I believe were of the lighter tackle variety, there are still a few plugging away on the heavy tackle for few rewards. David Crocos was out again solo in his trailerboat and fished wide of Jenny Louise on Saturday for a little fella, jumping off another about the same size.
Meanwhile after fishing the Ladies Ribbons comp, Capt. Tim Richardson's Tradition is on its way home to the Gold Coast. Tim says that he fished Myrmidon surrounds for not much action on the black marlin side but release a nicer blue on Tuesday as well as a smaller model blue about 150lb on 30lb for 11 year old Hayden which was Hayden's first blue marlin!
And off the Gold Coast (Point Lookout), proud Dad Wayne Thomsen put 9 year old son Ryan onto a bunch of small blacks going 9-7-5 on a great father and son day.  Wayne says that Ryan caught 4 of the 5 fish including one out of a successful double header, tagging both fish (and the other being the only one Ryan let Wayne catch!) Doesn't Ryan look as pleased a punch? Which he should be!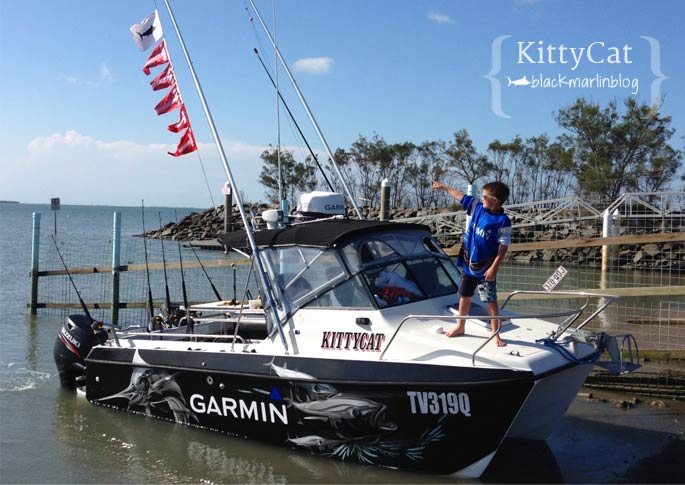 And on Lucky Strike, Capt. Ross McCubbin put Melbourne angler Rob onto a small black (50kg) as well as a cracking dolphin fish (21kg) crossing a couple of items off the bucket list in the process. He's out there again today, trying for a blue marlin to go with!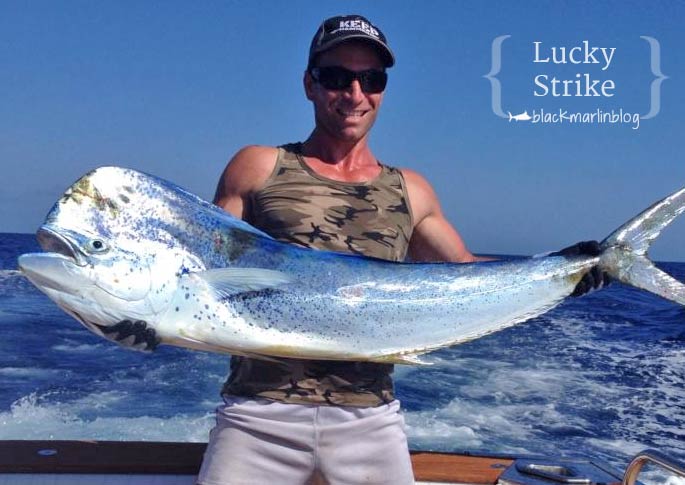 ---
And a reminder, if you are looking for a calendar for a Christmas gift, order by early next week to meet the shipping deadlines. Congratulations to Mercury Certified Technicians (Frank) from Florida who was lucky number 5000 liker on the BMFB Facebook page and won himself a free calendar!