There's lots of summer fishing going on and I hope you have the chance to get out there and enjoy it. This will be my last blog update until after Christmas (Merry Christmas!)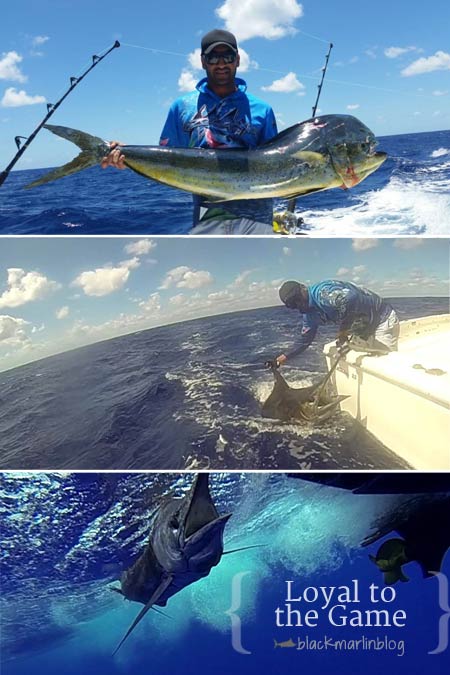 Firstly another report from Mana fishing the shelf off Point Lookout on Monday releasing a nice healthy blue for John Wilshere (photo), his first blue. They also latched onto 2 other blues but they jumped off after some minutes of pure power on 80lb.
But John wasn't done for the day as the long rigger went off with a nice bull dolly flying across the horizon.  This was also Johns first dolly.
And some more news on the movement of the little blacks with Steve Bedwell reporting they are already at South West Rocks and Barries Bay off Port Macquarie.
Steve says there is also a fair bit of bait with a lot of flying fish on the shelf line where water temp is around 26.5 and blue. Four boats fished Sunday morning with 6 strikes between them and a few good dollies (1 at 13kgs on 8kg for the BBQ!) – how good are the dollies this year!
The big news is junior female angler Kaysie Fancett (15 years old) fishing grandads boat Chicka with dad Brad at the helm boated a 112.8kg blue marlin on 24kg stand up which is a pending record (NSW and Australian). The fishing is shaping up really nice for 31st Golden Lure from the 9th to 17th January. Thanks Steve!
Cairns Giant Black Marlin Season Videos:
Its that time of year where we have some great footage coming from the Cairns season just gone as crews have more time over the holidays to review. Don't forget I've been tagging all the video's I've received so far so you can see the entire collection here.
I even did some editing myself with my first KEKOA season video yesterday below. Big fish for Big Fish Hass, one of two biggies on the first day of his trip this year:
Cairns Marlin Season 14 – Hass The Return from Kelly Dalling Fallon on Vimeo.
The second, well its a group of three from Capt. Tim Richardson's Tradition crewman Garrett. Part 1 is below and you can see Part 2 and Part 3 as well.
And last but certainly not least, Adam Ferguson has sent me the video from his trip on Capt. Dean Beech's Onsite to Osprey Reef ex-Cooktown including their 700lb black, 700lb blue, another small black and a double hook up on sails along with all the species they were jigging and popping for out there at Osprey.