Starting at the top:
Bite Me Charters Scotty Coulter tells me there is still odd little marlin around Yeppoon waters. He caught one about 15 kg while fishing the bottom fishing on Sunday and a private boat also caught one nearby.  Scotty also tells me he is taking bookings for winter time at Fraser island in 2015 as well as Cairns.
Meanwhile the have hit the Gold Coast in big numbers. Capt. Gavin Woodbury on Sea Probe had a big day on the weekend with 10 from 12 on the little blacks in the 30-80kg range for some very happy anglers! This followed up from the day before with his youngster Callum releasing two at 25kg and 70kg (and an hour on the rod with 20lb braid on a bait caster!) Capt. Ross McCubbin on Lucky Strike was also in on the action yesterday with 4 from 5 that Ross put in the fish up to about 80kg and reports that all his were from the beach out to 80m of water!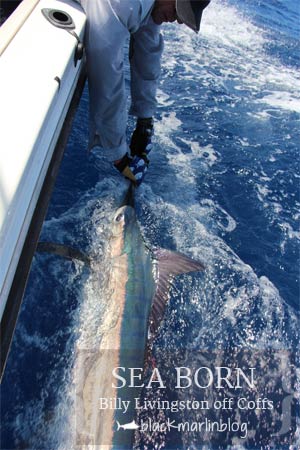 Down off Coffs Harbour (read the Coffs Destination guide here), Solitary Islands GFC's President James McGinty reports that the little blacks have arrived just in time for Christmas! Matador, Foreign Exchange and Better Than Vegas all tagged fish between 25 and 50kgduring the week, and Seaborn tagged a 25 kilo black on Sunday. Of course there have been the usual missed bites as well, and numerous big mahi mahi as stocking stuffers. The water is blue, 25-26.5 degrees, there's plenty of bait about, and it's shaping up well for the summer.
Photo:f Billy Livingston's fish, tagged on Seaborn.
And last but not least, striped marlin action off Port Stephens: Andy Bagnal on Seaka on Friday and Saturday tells me that a few more have been caught over the past few days. On Friday they went 1 from 1 striped marlin and a bunch of good sized dollies in a very short session inshore around the FAD in sloppy seas. Saturday was a much better day for them with Port showing it's true colours when they came across a large baitball and had for themselves for the afternoon, tagging 4 from 8 stripes raised on skipbaits, including a nice one for marlin virgin Rob Frier (pictured) plus a few good dollies.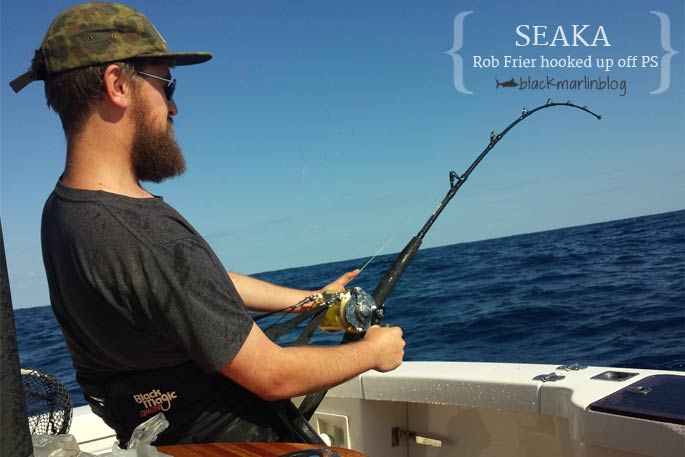 Andy says that a few other boats went out Sunday, but it sounded quieter overall. Gunrunner went 2 from 3, Kaos got 1 and Kurly 3 got 1 as well. Andy has just traded Port for the GC and is about to spend the next three weeks chasing blue marlin out of the barra punt…as you do ;-) Hopefully the weather cooperates!
And a lastly, wishing you all a VERY Merry Christmas, Happy Holidays and All the Best for 2015. Thank you for reading in 2014, looking forward to another very fishy 2015!