The marlin are firing all the way down the east coast and spending the last couple of days on the water a given for the lucky ones (West coast? You're tomorrow, email your report!)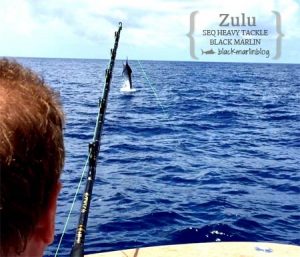 On the first extended shakedown trip of the latest of Barry Martin's Assegai, Zulu, with the owners enjoying the holidays out of Hervey Bay to Lady Elliot, Lady Musgrave then to Fitzroy Reefs over the past few days.  5 hours of lure fishing Saturday (out from Lady Musgrave). The first, hooked up while the lures were still going out in freespool(!) was a 300lb-er for owner Chris who followed up with a 450lb-er a bit later and 600lb-er for Amanda as well (switching from crew member to angler for a spell on the rod!) Capt. Casey Dent reports that the boat went very well and they already think she's a fishraiser!
On the light tackle side, after Luna's incredible report (33 tags in 2 days – see yesterday's report) the reports continue to come in from both the Sunshine and Gold Coasts with plenty of new anglers getting their first. On the Gold Coast Matt Caelli and crew on Jugs who were another who had a go on the blue marlin (no go) and returned in close to enjoy the little black marlin action instead. They finished with a 9-9-9 in 1.5 days fishing with the fish from 15 right up to 70kg!
And Port Stephens is also keeping anglers well entertained with the striped marlin showing up with Gunrunner's Scott Lee telling me that most of the action was to the north of the Carpark.  Scott says there are also a few blacks being caught amongst the stripes on the edge, the blacks being around the 30 kg mark. The fished Christmas Eve for 1 from 3. They were back out again yesterday for another 3 from 3 today switching, all stripes.
Scott says he managed to catch Capt. Timothy Dean his second marlin for the year! Tim was over the moon to finish the year with such a flurry! ;-) Just to refresh your memory, Capt. Tim, always one to do things in style, had a memorable first marlin for 2014 as well with this one in Kona!
Scott tells me that most other boats fishing had at least one. And one of those was Dave Tucker and crew on Central Coast boat Haulin' following up from Saturday when they fished South of Port Stephens and after a late start (because of a hungover crew member (Dave of course!) managed to tag a nice sized black and a nice striped marlin and having several more shots during the day.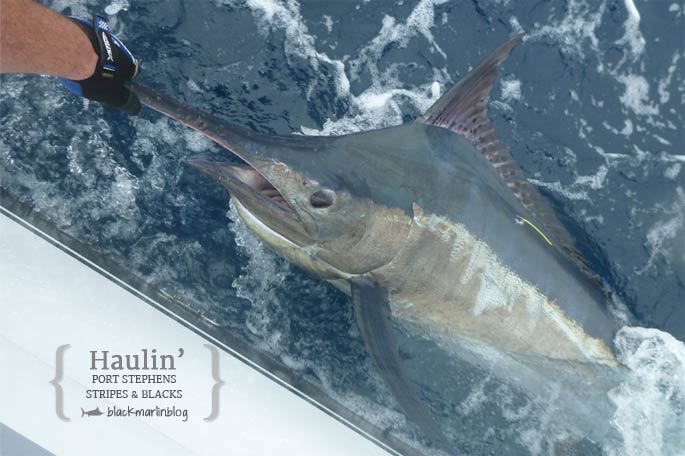 Obsession was another getting in on the action with a 1 from 3 Saturday as well.