In the reporting stakes that is!
While I wait for a few more details from the west, the good fishing on the east shows no sign of slowing down.
After tagging 9 blacks in the past two trips off the Gold Coast, Murphy's Law sneaked (I wrote that…okay traveled!) up to the Sunny Coast yesterday for a change of scenery and try their luck with the numbers being encountered up there. Success!! They tagged 10 from 14 with 2 double hook ups in what Matt Stehmann called some 'seriously hot fishing' and broke their best day record on board (previously 9) in the process. Joining Matt on board, John Stehmann and the Morley brothers Andrew and Steve. All fish were from 10-30kg.
Off the Gold Coast yesterday as well, Capt. Ross McCubbin reported another 2-2-2 including a fish that he put at 100kg for angler Ray!
Also out of the Sunshine Coast David Granville's Cover Shot was back at it yesterday with another 4 little blacks. David took Sue and Robbie Wells out and Sue got her first, second and third ever billfish. Robbie got to wind one in too when they got a double header on;-) More fab pics from David at top!
And again, out of Port Stephens, Gunrunner went 2 from 3 again yesterday with Muzza driving and the girls Cara and Bridget on board switching the fish again. With Bridget catching her first ever fish! Scott says that there are plenty of marlin down here with surface bait, bait balls, and sun baking marlin cruising! Nearby Calypso went 1 from 1 as well.
Catching up from Sunday, Andy Bagnall tells me that Seaka went 5 from 8 on (3 blacks, 2 stripes) including 3 fish to a junior angler Jay Thompson, and 1 fish and first marlin ever to small fry Cooper Frith.   Andy added that there was also some 'weird stuff' with Cooper' s 2nd marlin that ate a bait jig and did not want to break off and kept jumping at the boat! And a mako that came up in the spread, and ate a skipbait then took out the entire bird teaser whilst a marlin ate the other skipbait!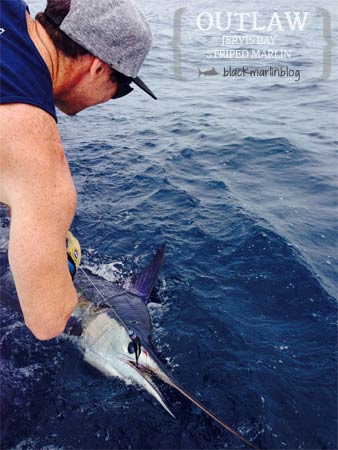 Port Hacking GFC club boats went on their annual trip to Jervis bay from Port Hacking (Outlaw, Cuban and The Edge). The new Outlaw had a double hook up and eventually went 2-2-1 to a 80kg stripped on 15. It was the first fish for the boat on its maiden voyage which was caught by David Joyce.
Meanwhile nearby the Cuban went 1-1-0.
The final newsletter for 2014 is going out later this morning. If you're not on the list, subscribe now, its easy to do!