A quick update from the Gold Coast which fished well again yesterday with Capt. Ross McCubbin reporting 5 from 9 fish in the 30 to 60kg range for a morning only outing. Ross says that puts him at 30 blacks in the last five trips now! Another racking up the numbers is Matt Stehman's Murphy's Law. Matt says that they out on both Friday and Saturday and tagged 11 fish in the 2 days with one estimated weight of 120kg on 8kg (which was tagged at 6:20pm after a 2 hr long fight on 8 to Andy Morley!) All other fish were in the 20-70kg range.  And that puts them at 37 tags all together in the last 10 trips!
The photos at top were taken by Benny Godfrey from Krank Productions of Murphy's Law
in action.
And while I've seen a few smaller blacks and sails show up on the 'Fishbook' over the past few days, I had a quick report from Sea Fever's Ashley in the Whitsundays who also went 1 from 2 on a 30kg model on Sunday off Hook Island for David from Las Vegas who also boated a big Spanish.
Central Coast GFC Nautilus Marine Blue Water Classic
The Central Coast GFC Nautilus Marine Blue Water Classic was held on 3-4th January with 31 boats and 201 anglers competing.  Good weather and successful fishing combined to make for a great tournament. In fact, I hear that it was the most successful tournament in terms of fish numbers that the event has seen to date!
Overall 13 black marlin and 6 striped marlin were tagged with 3 boats finishing the tournament on 4 marlin tags (Freedom, Orca and Goliath), with line class and oother species making the difference in the points. 70 dolphin fish were also tagged and released(!) and 3 captured – the best weighing in at 18.2kg to angler Andrew Fairless on El Bandito from Wollongong GFC. There were also 8 sharks were tagged and released and 7 sharks weighed with the largest weighing in at 366kg on 15kg line class to angler Andrew Patti on Vengeance from Lake Macquarie GFC.
Capt Scotty Thorrington guided his CCGFC team on the mighty Freedom to a come from behind victory tagging 4 black marlin on 10kg line, and a hammerhead shark on 15kg to Champion Boat (over 8m) Tag and Release. And CCGFC President Nathan Bajada and his crew took out the under 8m Tag and Release category, in Nathan's new 5.5m Cruisecraft Finfisn, with a black and striped marlin tagged, plus a couple of dolphin fish.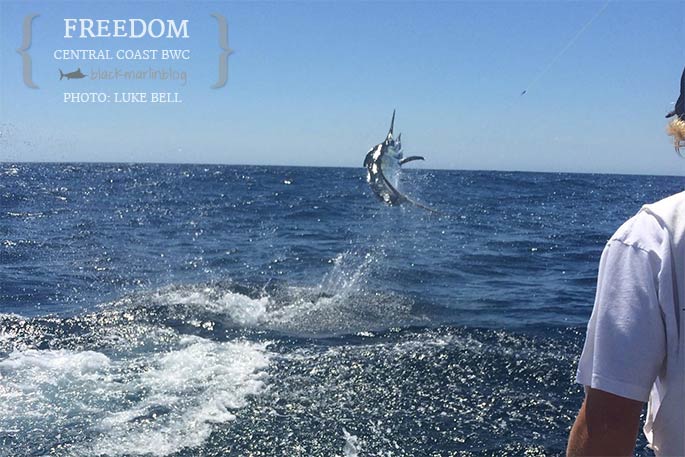 Lake Maquarie GFC boat Vengeance took out the Champion Boat (under 8m) Capture trophy while the Champion Boat (over 8m) Capture was taken out by the crew on Double Trigger.
A special mention of all the Small Fry and Junior Anglers who are the future of our sport, so worthy of recognition:
5 year old "CCGFC mascot" James Fordham, fishing on Goliath won Champion Small Fry Tag and Release, with 7 tagged Mahimahi.
Champion Small Fry Capture went to Patrick Young on Off Tap who fished alongside Champion Junior Male Tag and Release (with a striped marlin and a bunch of dollies tagged)
Champion Junior Female Tag and Release was won by Jordan Chenoweth, fishing on NSWGFA President Garry Chenoweth's Happy Days
Thank you to the CCGFC Tournament Committee and all of the anglers, crew and captains for making the 2015 Blue Water Classic a great event.
And thank you to CCGFC VP Myles Weston for the report!