With the weather agreeable, I hear that the Gold Coast turned on its own Carpark (AKA the edge off Port Stephens, so called due to the density of fishing vessels on the spot ;-)) over the weekend. With the proximity of the fishing grounds for even the smallest vessels, everyone seems to be keen to get there share of the action. And in the leadup to the Gold Coast GFC's Light Tackle Masters later this week (kicks off on the 15th), a bit of pre-fishing going on as well.
Capt. Ross McCubbin says that there are still plenty of fish about but with the increased number of boats, anglers are having to share the numbers. Still, Ross has notched up another 12 little blacks in the last three trips on Lucky Strike which is great fishing in anyone's book!
Port Mac's Golden Lure is likewise underway with the inshore blacks outfishing the blues.  Day 1 saw 2 blue marlin and 9 black marlin in tough (weather) conditions, while Day 2 saw another 3 blues and 11 black marlin tagged. Today is a lay day.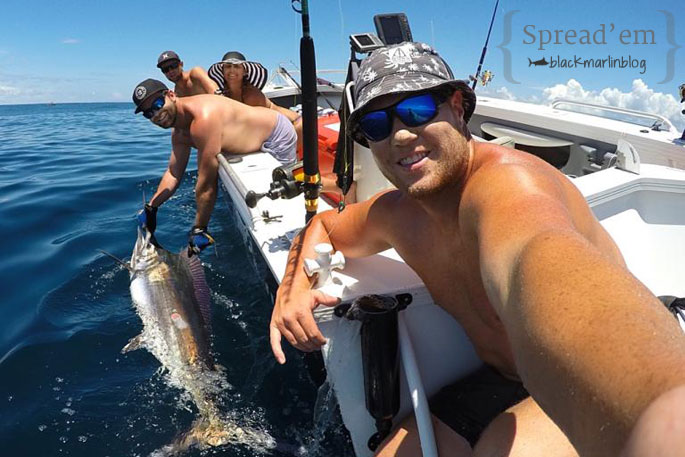 As I mentioned last week, the little blacks have also made their way in numbers right down to South West Rocks.  Sam Owen sent me these great pics of his season starting at Wooli and down to SWR which embody the awesome-ness of the summer season on the water — with the little boats mixing right in with the professional sport fishing fleet. Sam says that he's put quite a few of his marlin novice friends onto their first fish (and plenty of bull dollies too which have been around this season in great numbers as well) and they look like they've been having a great time doing it!