The Gold Coast action hasn't let up (good news for the tournament – briefing tomorrow!). Capt. Ross McCubbin, on Reel Busy this time with Craig and Jim Vernon on Monday added another 8 from 9 (!) and was back in by 1:30pm. Ross says that all the fish were in the 30-50kg range, a bit smaller this time.
The Golden Lure event continued at Port Macquarie yesterday with 20 teams entered to compete in the Tammy & Richard Kirkby Memorial Day (for the Ladies, Juniors and Small Fry).  Small Fry angler Ryan Minuti (son of Band of Brother's Dennis Minuti) was one of many happy anglers yesterday with Dad putting him onto his first, second and first black marlin all on 10kg on Team Simrad. Well done Ryan!
More from South West Rocks, while Spread 'Em's Sam Owen reports a slower day on the billies yesterday, they got stuck into the dollies again and Sam said the action was crazy. I also heard from Matt Metcalfe who fished nearby Crafty Catch with his two mates Brett and Adam Carruthers who own the 650 Cruise Craft. They went 4-2-2 on the little black marlin at 25-30kg on 8kg live baiting the Jail Grounds.  Matt says it was a slow start for them too but as they were marking fish all day they knew something had to happen — which it did on the high tide. They were still marking fish by the time the called it a day! A couple of action shots below.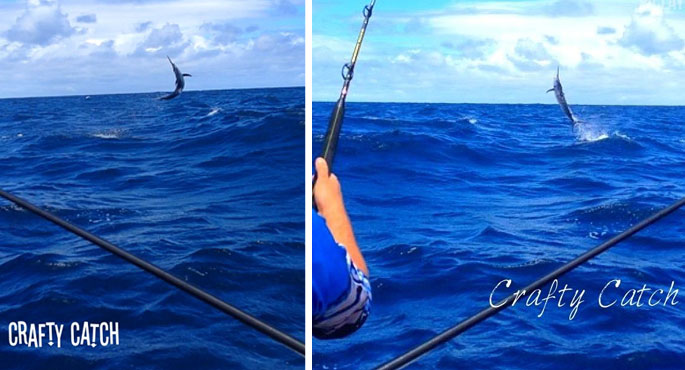 And a catch up report from Lee Rayner who is (like me!) feeling a bit of marlin envy with all the action going on right now.  Lee says that he was able to have a quick fish out of Eden last week after hearing the reports from the NSW south coast's great bite over the past weeks where loads of slimy mackerel have been stacking up along the edge of the shelf.
Lee says that they managed this gorgeous stripe on a lure before heading home (after which he heard the bite heated up again with a lot of boats reporting multiple fish up in there spread getting multiple shots each day…always the way!)