Back in 2011, long term owner of Sea Baby IV Rod Mathiesen and family were devastated to lose their beloved boat of 11 years to damage from Tropical Cyclone Yasi.  After declaring the boat a total loss, the hunt began for a new vessel.
Preferring a custom-built vessel, Rod began to talk to the original owner of  Kiama in 2013.
Kiama has her own Giant Black Marlin history.  As the sister ship to the well known Mauna Kea, Kiama was built by Pat Caterson in 1997 on the Gold Coast with a distinctive Pleylser blood line with Assegai Marine's Barry Martin carrying out major engine room modifications in 2001.
She has had many well-known skippers at her helm over the years from Terry Parker and Jeff Ferguson to Dean Beech, Laurie Wright and Dave Pemberton.
After the sale was finalised in April 2014, the boat was brought up from its home in Melbourne to the Gold Coast where a major refurbishment was undertaken including complete strip and repaint job, interior, big freezer, new electronic package, brand new black marlin tower and bow rail, outriggers and more.
And this is the final result: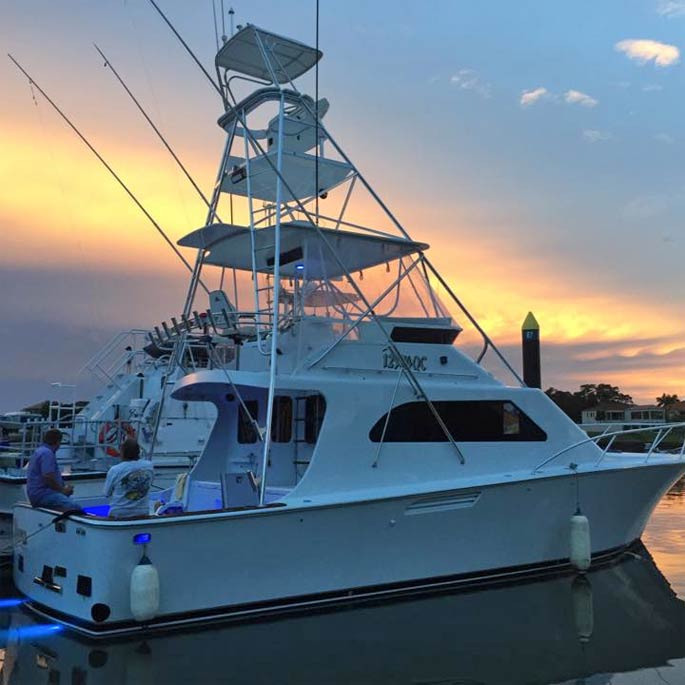 Kiama is now based in Townsville where she will spend much of the year, but it will be great to see the boat back up in Cairns for season 2015. Stay tuned for more details on the directory pages and via the Facebook page for plenty of more photographs.