Tournaments
It's a busy time of year for tournaments and while the Port Macquarie's Golden Lure has wrapped up (tournament report to come) the Gold Coast GFC Light Tackle Masters' final day of three days fishing is today.
And its tight on the leaderboard! Shari tells me that going into the final day Grinner and Ocean Instinct are vying for the lead with 5 marlin a piece and Aluhra and Jugs have 3 each. There are 6 boats on 2 and 6 boat on 1 (from a fleet of 37 boats fishing) and so it should be a very interesting final day!
Day 1 saw 23 marlin tags, while there were 18 tags on Day 2.  There should be beautiful conditions for the final day out there today!
Meanwhile, the Bateman's Bay GFC Tollgate Islands Classic is likewise on the final day of fishing today and I hear that there have been several stripes (and spears!) around!
Upcoming in January 2015:
31st Australia Day Tournament – Redcliffe
2015 Botany Bay Bill Heyward Memorial Tournament
Bermagui Big Game Anglers Club Blue Water Classic Tournament 2015
2015 Jess Sams Tournament
If you're in Cairns, add this one to your calendar. The Cairns GFC, formed on the 25 Jan 1965 and is celebrating the 50th anniversary this year. To celebrate Graham is hosting a "Cocktail(s) Party"at the CocknBull Tavern at 6pm on January 28. Everyone is invited!
Ms Daphne Nielsen, the inaugural Treasurer and Life member of the GFAA, and Hall of Fame member will be enjoying a wee scotch as she nears her 90th birthday. Look forward to seeing everyone for a few coldies, tell a few lies and have a good laugh.
More details on Facebook here.
Newsletter
The monthly newsletter went out this week. You can read the latest issue here or:
[esi-optinform]
@blackmarlinblog / Instagram
We've been having a bit of fun on Instagram this week, and planning the same next week as well. If you've got some awesome shots to share, send them in!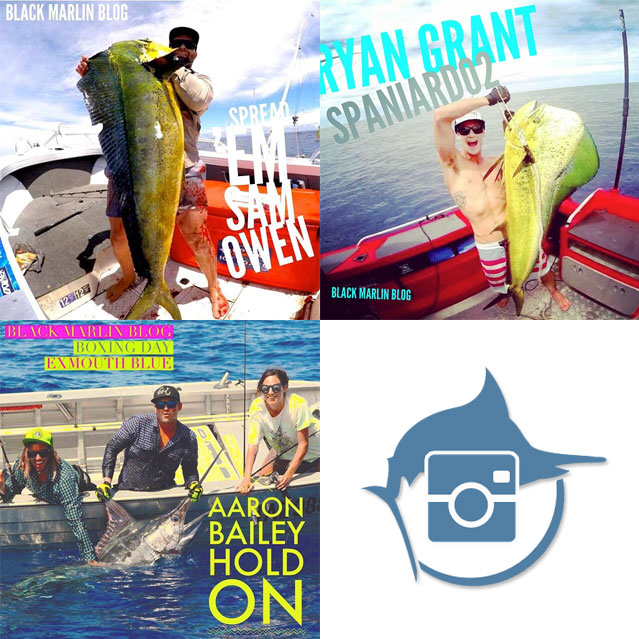 Elizabeth Reef Expedition
Big Fish Small Boats' Al McGlashan has just returned from an amazing trip to Elizabeth Reef with Glen and Karen Wright on Tantrum. Elizabeth Reef is some 400 miles off the NSW coast and 100 miles north of Lord Howe Island and Al calls it a true Jurassic Park. They were hooking 35kg tuna in 15 metres of water, getting busted up by big kingies, and also caught oddities like jobfish as well as millions of sharks.
While the sharks kept Al out of the water a bit (no one else on the crew were keen to jump in either!) he still shots heaps and sent me a taste of the images below.