Fraser Coast blue marlin
A report via Andrew from Larva Lures of the team on Mistress bringing her back to the Gold Coast after her unfortunately cut-short Cairns season (Kurt, Tiger and Jason) taking the opportunity to test a new lure colour prototype on the blues off Fraser. They were hooked up within 10 minutes of deploying the lures to a fish around the 200lb mark (on the Night Skiy 12″). With a few strikes in between (dolphin fish and another blue) the new prototype colour was deployed for a wahoo and they finished the day with another blue about 350lbs around sunset! Great to hear the blues are still around in good numbers and looking forward to hearing about the new colour ;-)

Three Tournaments
The Gold Coast Light Tackle Masters is over for another year and while I heard that the bite slowed up on the final day in direct proportion to the current speeding, we can expect a report once the sore heads from last night's presentation have cleared.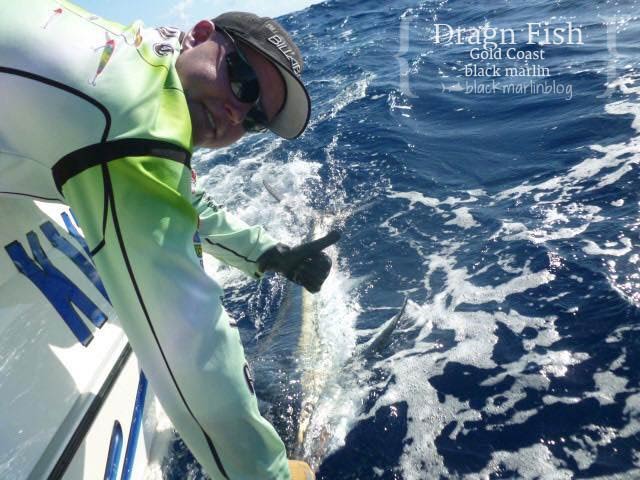 Likewise the Batemans Bay Tollgate Classic where I hear that over 100 marlin were tagged for the comp!
But I did get a few tidbits out of Steve Bedwell from the Port Macquarie Golden Lure (and Steve is likewise nursing a sore head from their preso!) Steve reports that 40 boats and 175 anglers competed over the 4 days of fishing in reasonable weather conditions and 28.2 degrees water.
The Tag & Release Small Black Marlin category was won by Team Simrad while Tag & Release Blue Marlin was won by Hermans Heros with a blue tagged early on the 1st day for junior angler Lachlan Kaczorowski. The Heaviest Tuna & other Gamefish was won by Steve's team on Mustang with a 58.4kg yellow. The capture award didn't go off this year although a few boats reported straightening hooks on big fish. The club also announced the the 2016 Golden Lure will now carry a prize of $10,000 for heaviest marlin over 150kg!
More from Port Macquarie
I had a report from Scott Baker who has just started operating his charterboat Rush Hour out of Port Mac and has been off to a very successful start. Often overlooked as a marlin destination, Scott has 9 good reasons why it shouldn't be with a 6-5-5 and 5-4-4 (yesterday) on black marlin – great results for his first two trips out. Some photos below.
Kiama, NSW South Coast
Last week he was fishing South West Rocks, this week Sam Owen has his boat Spread 'Em fishing off Kiama. Fishing yesterday (what Sam describes as a day to remember!) he had 10+ stripes in the spread early and had a chaotic 4 way hook up with all four eventually jumping off….oh, did I mention he was fishing solo?!?
While unlucky to miss all four a couple of hours later he came tight on a good stripe. He had the fish on the trace after 39 mins but couldn't get the tag shot in and the fish took off again only to have it pull the hooks boatside after another 30 min fight. Switching to skipbaits resulted in a double header of 90-100kg stripes and a quick call over the radio found him a second angler with Chris Cleaver on Double Edge transferring willing angler Tak onto Spread 'Em where they both successfully getting both fish to the boat (and Tak's first stripe and biggest marlin to date!)
More great shots at top!
Merimbula Marlin Bite
At the helm of his new purchase Head Hunter Capt. Nathan Brown likewise reports a hot bite out of Merimbula on Friday.  Nathan put good friend Marek onto a nice stripe around 80kg followed by young André getting to catch his first marlin, releasing one around 3pm. From that point the bait disappeared and the frustration set in. They went on to raise two more on the teasers and managed to switch both only for them to drop the lure a short time after.
Nathan also reports that Jedi II also tagged two after seeing 8 and getting bites out of four and the Lazaro boys also went 3-3-3.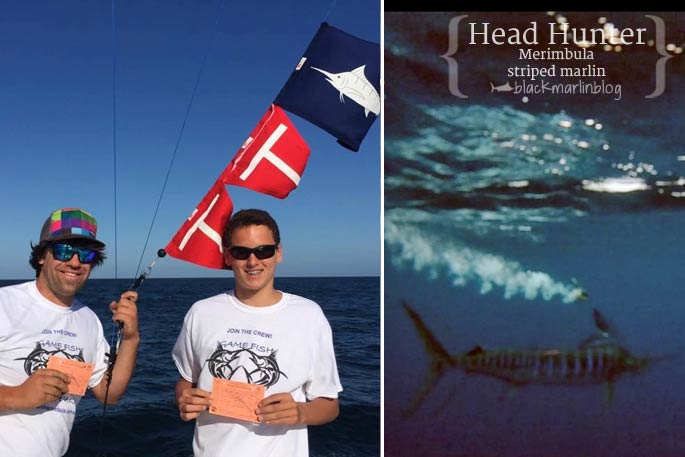 Catch up from South West Rocks
Adam Furgeson sent me some awesome pics (in the gallery below) from his recent trip away to South West Rocks and Wooli with Sam Owen. Photos are Adam and Jarrod Coughtrie who were fishing out of their 4.5 m Tank.