Gold Coast Light Tackle Masters
Well the results are in! You can download the full winners list here and the official report here.
By all reports, another fabulous event. The final stats were 53 black marlin tagged from a fleet of 36 boats.  Long-time Gold Coast GFC Club member Craig "Grinner" Newton and his team on Grinner was able to convert a fish on the final day to take the across the line in front with 6 tags from Ocean Instinct (who took out the Under 8m class) and Aluhra (Moreton Bay GFC) both with 5.
Several of the fish were larger models that gave anglers a tough going on the 8kg line class.  On Day 2, Hook Me Up fought an estimated 300lb-er into the night only to lose it at the back of the boat after 4 hours!
Bateman's Bay Tollgate Islands Classic
Craig Murphy was kind enough to give me an update from the comp with very good fishing not unlike what Craig remembers from 10 years ago with lots of striped marlin playing havoc with boats towing big lures and plenty to talk about at the bar in the evening! evening! While the last few years have been won by 2 or 3 fish by one boat over three days this year the Champion Boat won with 7 marlin.
Overall there were 106 billfish tagged or captured over the three days from the tournament fleet of 48 boats.  Dennis Lucardi's 40′ Caribbean Hardaraddit won champion boat T&R with 7 marlin, most of which were caught by Dennis' daughter Tegan Lucardi who won champion Female Angler. Runner up boat was Stewart Wensing's Frigate with 6 marlin who also took out Most Marlin Tagged by a Trailer Boat.
Heaviest Marlin was a Blue caught on Fearless and weighed in at 167.8kg.
Craig's boat, Dadsboat, took out Champion Boat Capture weighing a 90.7kg striped marlin on 15kg to Dr Paul Allin on the Friday (also winning them the Friday Cash Shoot Out with this fish). And they also weighed a pending Junior 15kg record 19.3kg spearfish to Craig's son Jakob on the Saturday. On top of the two captures, they tagged another 5 striped marlin, the fishing was really good!!
The winner of the T&R section of the Friday Cash Shootout was Matt Xiberras' boat X-Factor.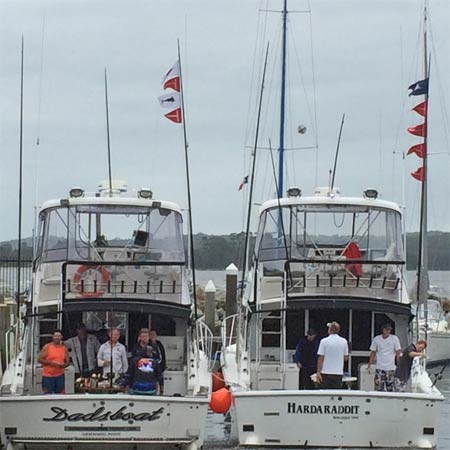 Port Macquarie Golden Lure
And following up from yesterday's Golden Lure report, Steve has kindly sent me the full list of winners. There was a total of 45 black marlin, 6 blue marlin and 1 spearfish tagged.
Read on for full details:
Champion Boat T&R – Team Simrad 92500 points JBGFC
2nd – Eastbound 75000 points PMGFC
3rd – Rarely In 57531 points N&PSGFC
4th – Renegade II 54031 points PMGFC
5th – Calypso III 40000 points PMGFC
6th – Backed Up II 36529 points PMGFC
7th – Rush Hour 30000 points PMGFC
8th – On Strike 27450 points N&PSGFC
Champion Boat Heaviest Marlin Over 150kg – Not Won
Breaking News – Jackpot to $10000 for Heaviest Marlin Over 150kg 32nd Golden Lure 2016
Champion Boat T&R Blue Marlin Only – Hermans Heroes 11500 (on Countback) PMGFC
Champion Male Angler T&R – Dennis Minuti 80000 points JBGFC
R/up – Michael O'Brien 62500 points PMGFC
Champion Female Angler T&R – Ebony Brown 45031 points N&PSGFC
R/Up – Jessica Hyde 41531 points PMGFC
Champion Junior T&R – Zac Danby 25000 points PMGFC
R/Up – Hannah Wykes 24000 points PMGFC
Champion Small Fry T&R – Not Won
R\Up – Not Won
Capture Tuna & Other Gamefish
Champion Male – Greg Relf 829.60 points PMGFC
Champion Female – Kim Bourke 648.96 LMGFC
Champion Junior – Not Won
Champion Small Fry – Not Won
Special Junior Award – Cashlin Murray – Mell N&PSGFC
Special Small Fry Award – Nicholas Crutchfield SIGFC (Ansa)
Most Meritorious Capture – Mustang 58.4kg Yellowfin Tuna PMGFC
Heaviest Shark – Not Won
Heaviest Tuna – Mustang 58.4kg Yellowfin Tuna PMGFC
Heaviest Other Gamefish – Wild Tuna 20.80kg Mahi Mahi LMGFC
Most T&R Marlin – Dennis Minuti JBGFC
Most T&R Shark – Ebony Brown N&PSGFC
Most T&R OGF – Brad Borg GLGFC
First Marlin Tagged – Dennis Minuti JBGFC
Last Marlin Tagged – Dennis Minuti JBGFC
Best Dressed Boat – Hermans Heroes
Boat Traveled Furthest by Sea – Vengence
Boat Traveled Furthest by Road – Team Simrad
40 Boats Fished
145 Male anglers
12 Lady Anglers
9 Juniors
3 Small Fry
Fish Report T&R 4 major days
45 Black Marlin
6 Blue Marlin
17 Sharks
2 Yellowfin
1 Short Billed Spearfish
1 Wahoo
24 Mahi Mahi
Fish Report Capture 4 major days
1 Yellowfin
3 Mahi Mahi
Many more fish lost in the battle or taken for dinner.