It's been another big tournament and while the tournament report is yet to come in, it was a great turnout for the inaugural Newcastle GFC East Coast Classic with 70 boats and 311 anglers competing. And it sounds like it was a tight race with mostly smaller black marlin inshore on Day 1 but more stripes and blues on the edge on Day 2.
Full report to come as everyone recovers from the preso last night today.
I heard from Andy Bagnall who was fishing the comp with the team on Seaka and had a frustrating day chasing the little blacks inshore with most of the fleet on Day 1.
On Day 2 they headed to the shelf and found some showering baitballs but not overly hungry marlin.  After a few hours they decided  to put out the heavy artillery and ran a spread for blues setting off for the edge. Immediately they raised a lit up stripe who smashed the rigger then promptly fell off again. Switching to teasers they then raised a procession of small blacks that wouldnt switch.  Finally e'agle eyes' Steve spotted 2 tailing stripes ahead which homed in on the spread like big neon missiles. They switched one and had a bite out of the other but didn't set.
Not long after  release they raised another stripe just before stop fishing but the hook didn't set.  Not in the mix, the made the call to abandon the comp so they could keep fishing for club pointscore and quickly raised another fish. This one they switched onto the pitch and after a monstrous crash out of the water bite at the transom from a blue marlin they were onto a blue marlin that quickly hit the accelerator and made the 15kg tackle look like a very bad decision.  40 mins later they eventually got the tag in and released the approx130kg blue in good condition for Andy.
They finished up raising 8, pitching 6, hooking 4 and tagging 2 – not a great conversion rate but what Andy said was one of the most fun days on the water in a long time!
And all very promising for the Shootout next weekend!
And just when you thought the action on the Gold Coast had slowed…
Mat Stehman tells me that they put Murphy's Law back in the water after a short break we and welcomed her back with an epic session going 10 from 15 on little blacks on Saturday. Fishing just the two up, angler Andrew Morley accounted for all the fish and probably welcomed an early finish getting back to the ramp by 2pm for family commitments.  Red hot fishing!
Mat said they had numerous occasions of multiple black marlin trying to steal baits right beside the boat. All fish were in the 10-30kg range which was a relief as the weather gods also made it hard fishing as it was blowing 25knots for most of the morning.
They backed up again on Sunday this time fishing 3 up, but only managed to tag 2 to John Stehmann before calling it quits just after lunch. On Sunday Mat said the bait was harder to get and the boat traffic seemed to put all the marlin to sleep.
Fishing nearby on Sunday Michael Umback also went 6-4-4 on little blacks 15-35kg. Michael said he also pitched a live bait to a larger 80-100kg model free swimming around the boat, but it didn't want to eat.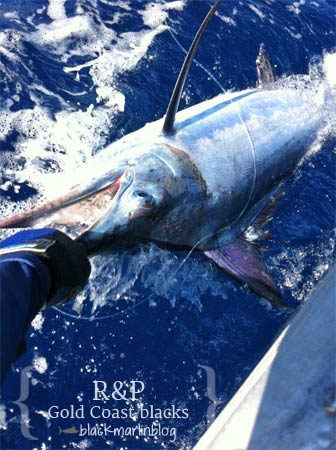 And a first time report from Leigh Holtsbaum who tells me that Sunday was his first trip out since the Light Tackle Masters where he ran the deck for Craig Newton on Grinner. (Teacher Leigh is also decky on the 35' Game Day and on occasion on Lucky Strike for Capt. Ross McCubbin when on school holidays.)  He was out solo on the Deep Trag 'Car Park' in his 4.4m tinnie with 40hp called R & P.
Leigh said that after a bumpy ride out the conditions got better – but as Mat said, the bait was hard to find. Leigh ended up with 4-4-4 black marlin all in the 30-40kg range and a mac tuna. He also saw few other boats getting fish including Gods Hands with 1 and a mahi mahi.