100 blue marlin.  100 blue marlin in a season.  100 blue marlin.
Amazing Exmouth and the team on Capt. Eddy Lawler's Peak Sport Fishing, fresh back from a month away in NZ I might add (and back just in time for Gamex next week!), have done it.  And with the season not over yet by a long shot, there must be several more to add onto the already impressive number.
Murry let me know overnight via a cheeky note to ask if it was worth a report. I know that these guys are proud of what they've achieved but I don't know if they fully realize just how in awe the rest of us are over here on the east coast.  Love your work guys!
Exmouth Marlin Blast 8-11 March
Exmouth Gamex 14-21 March
Gold Coast Blues Too / Still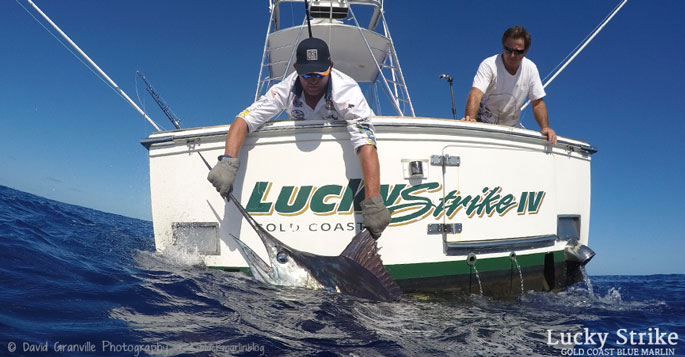 Master photog David Granville was on board (and obviously also not on board) Capt. Ross McCubbin's Lucky Strike yesterday for a day out on the blues off the Gold Coast.  David reports they converted this picturesque blue and a spearfish as well. There were also plenty of big yellowfin busting up around but David said for them, they had lock jaw!
Great to hear the blue marlin are biting again and with the big yellowfin tuna around (Greg Bailey weighed one at 71.2kg yesterday), there is sure to be some big blues hanging around them as well.  Good news for some upcoming tourneys on the Gold Coast.
Update: Matt Caelli kindly sent me a photo (below) of the big yellowfin from yesterday that was caught on First Priority. Monster!
Surfers Paradise GSFC All Tackle All Species 13-15 March
Gold Coast GFC Garmin Blue Marlin Classic 10-12 April
Gold Coast Blue Marlin Shootout  1-2 May