It was only a matter of time until Port Stephens fired with areas to both the north and south producing again and again over the season. And while it showed some of its usual brilliance during the NSW Interclub, the fishing this week has once again shown why we look to Port again and again at this time of year.
Capt. Tim Dean (Calypso) tells me that they have had some really great fishing over the last three days with Capt. Laurie Wright, Tim and Stephanie Choate notching up 13 marlin in three days on pitch baits and teasers including a 450-500lb blue marlin, a 300lb stripe and 220lbs blues among the fish. Great fun with great friends.
And on the deck, Deano Ford had some good pictures of the fishing (above). Multi tasking at its finest!
Adam Polly also fished the Carpark on Tuesday alongside Calypso on his boat Mistress. Adam tells me that they went 3 from 3 with 2 stripes and black marlin.  That was on the same day that he saw Capt. Scotty Thorrington's Freedom get 4 and Calypso get 5.
On Wednesday they followed up with another 3 from 5 (one striped, 2 blacks and one only 20 kgs! And Freedom got another 5.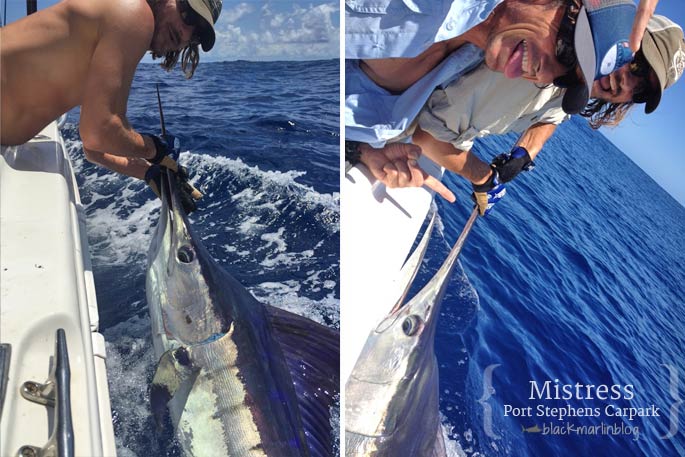 Meanwhile back up in SEQ, a report via John McConkey of Dino Rosa's Manic who fished wide of Moreton Wednesday and converted 2 from 3 blues!