South East Queensland
David Granville kicked off the reports from what was by all accounts, a simply amazing weekend in SEQ.  David fished Noosa Canyons in his boat Cover Shot on Saturday for 3 blacks and a blue. It was the first blue marlin for the new boat and also a first for angler Kaspar Lenigas.
Some more awesome David Granville pics above and below.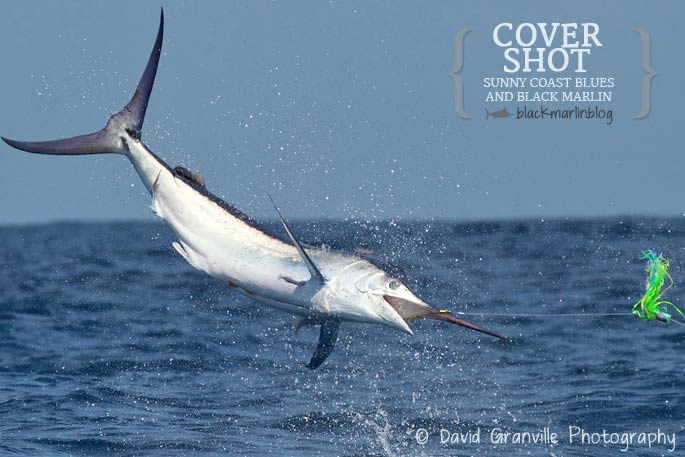 Off the Gold Coast, the sheer numbers of fish encountered was awesome.  Capt. Casey Dent's Zulu went 3 from 5 (Sunday) and Capt. Matt Johnson Gypsy went 3 from 4 (Saturday).
And all on Sunday: Matt Stehman's Murphy's Law reported a 7-6-4. Glanville Heydenrych's Ocean Instinct a 2 from 6 (hooking all 6). Ryan Goding reported a 7-5-3 on God's Hands (including a good one with 2.77 short length and 1.53 girth). Ben Caelli reported 2 from 8 on First Priority while Matt Caelli and Jesse Hill reported 3 from 4 on Jugs.   Jesse also said that one of their fish was around the 200kg mark (and on the other end of the scale, jumped one off about 40kg) and that they missed the good bite because they went looking for the tuna early. I think that if you can 'miss' the bite and still end up 3 from 4, that's an awesome day!!

Reminders
Surfers Paradise GSFC All Tackle All Species 13-15 March
Gold Coast GFC Garmin Blue Marlin Classic 10-12 April
Gold Coast Blue Marlin Shootout  1-2 May
Have a tourney to add to the calendar?
Coffs Harbour Blue Bite
And Rick O'Ferrall tells me that the slow summer turned a corner off Coffs on Saturday as well (although Rick does point out that one good day's hot bite does not a turnaround make!) Still, they had more action Saturday that the whole rest of the summer.
The EAC finally stopped behaving badly, and brought a big pulse of 29C water down from SE Queensland, and a lot of marlin with it. Multiple boats off Coffs raised blues, blacks and even striped marlin. Most of the blues were fairly small in the 100-150kg class with one exception. Rick heard about a big fish behind Rob Lang's Black N Blue and attacked a lure completely airborne. The fish didn't stay hooked up, but Rob and his crew got a good look at it in the air right behind the boat, and Rob said it was easily 800lbs.
Still, good news for the upcoming Solitary Islands GFC Heavy Tackle Challenge that's coming up over the weekend of 28 and 29 March.
Port still gold
Another good weekend fishing with the good ship Calypso finding another pot of gold yesterday recording 6 from 8 (3 blacks and 3 stripes).
And Red Hot Fishing Charters' Simon Rinaldi tells me it's been a solid month on the water and have just hit 50 marlin for their shorter season (Simon is on his last week at Port before heading down to Portland to start his southern blue fin tuna season) so far for the season ranging from in shore blacks to line burning blues south of the Carpark (photos).
Capt. Scotty Thorrington's Freedom has likewise hit the 70's – good numbers for the reliable Port!