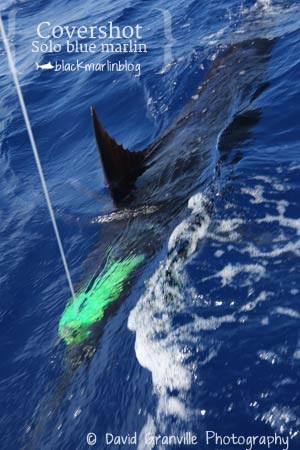 With the successful release of the first blue marlin on the new boat on the weekend, David Granville took advantage of the very next opportunity to get out there again yesterday – this time off the Gold Coast. And this time he checked another box with a very enviable first solo blue marlin!
I was joking with Dave that if he managed to catch it and photograph it as well solo then I would be amazed. But that exactly what he did. Congrats Dave, amazing effort! And some more great photos at top and below that David took while he was out.
And aside from the amazing solo effort, there was some amazing two-up fishing nearby.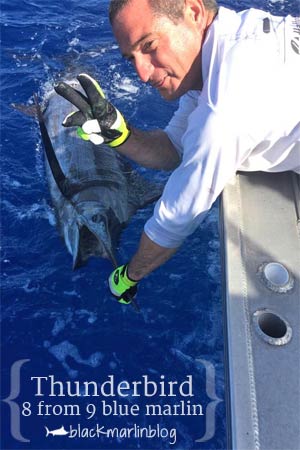 Matt Caelli was fishing (two-up) with Mark Bird on his boat Thunderbird. While they had a later than planned start after some engine problems, when they did get out there, it was straight into the action. They got their first bite at 12:00 and it was non-stop thereafter with the duo finishing the day with a 9-8-8!
Matt said that that number included two double hookups and they enjoyed some crazy action including pitching lures to free swimming blues while fighting another!
Truly awesome fishing!

Also back out yesterday was Glanville Heydenrych's Ocean Instinct who got off to a good start with a 3 from 3 by 9am. Then his own set of engine dramas put a hold on the bite, and after a temporary fix, the conversion rate took a hit as well.
Glanville said they broke the next fish off when it jumped on the line, then got bitten off by a marlin on the bite (through 600lb leader…..!), broke an outrigger on a bite which in turn got the lines tangled around the rod which they couldn't wind with the fish nearly ending up in the boat. Then to 'top' it all off, they pulled hooks on a double header. Good start and frustrating end resulting in 3 from 7.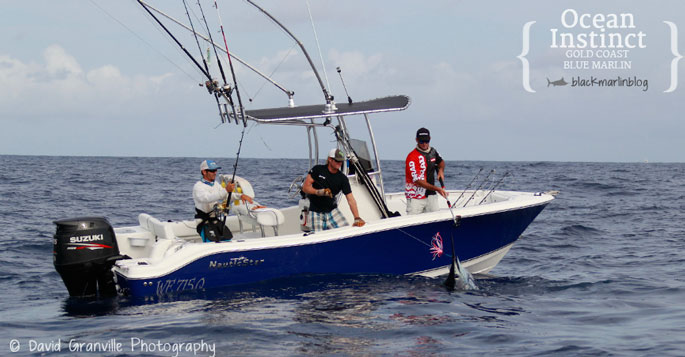 But still a good day (as is every day you catch a marlin!) And David tells me that Ben Godfrey's Krank recorded a 2 from 4 as well (top photo).
And a catch up report from another with the good captain Ross McCubbin telling me he wishes he could be out there fishing 24/7 at the moment, such is the bite. Ross reported 3 from 12 on Sunday with lots soft bites among them and is out there and at them today!