I didn't even realize it was Friday the 13th until I wrote that. But we fisher-people are not a superstitious mob are we?!? When the fishing is this good – all the way along – it just doesn't matter what day it is!
NSW: Port Stephens
Post Interclub the fishing has been getting better and better and boats are easing closer to the magic 100 fish season mark. But when you're notching up 37 marlin in a week's fishing (!) you go through the numbers pretty quickly!
Capt. Tim Dean's Calypso recorded 37 for the week this week with the best day at 9 fish.  Tim says that it's a mixed bag of blacks and big big stripes and that he expects the season to go back to normal and fish really well right through April.
NSW South Coast
It's been a little more hit and miss since the hot bite of the previous couple of weeks including over the weekend at the Bermagui Alliance Tag & Release Tournament. Capt. Nathan Brown's Head Hunter was one of the boats that headed up to Bermi to fish the tournament and after striking out on Day 1, tagged a black and a stripe on Day 2 to put them behind the lead boat on count back.  But alas it was not to be and they could not convert the winning fish with the Champion Boat award going to Swoopa who tagged two fish on the first day of the tournament.
On the way back to Merimbula they tagged another stripe on Monday and Nathan also reports that the bites seems like it was back on at Bermi on Wednesday with boats reporting multiple fish. If you're after detailed reports from down that way, follow Nathan's blog for all the full details.
NSW Coffs Harbour
It had to be a matter of time really with the number of blues on the Gold Coast, that they started to trickle down to the waters off Coffs. We got a preview the other day, but I hear that its just been getting better and better. Rick O'Ferrall tells me that "the appearance of blue marlin last week turned out to be anything but a flash in the pan" (I love that, had to leave it as is!). Four boats fishing yesterday scored a collective 10-7-3 in the space of 90 minutes – all in a couple of square miles just beyond the continental shelf off the Coffs Canyons.
While the bite was quiet before midday, thanks no doubt to the moon, the fish got hungry again at the tide change just after lunch. Foreign Exchange, Black N Blue, Hemingway and Stickybeak all found fish within sight of each other. Two boats even hooked up blue marlin within a couple of hundred metres of each other at exactly the same time.
Rob Lang's Black N Blue went 2 from 3, Hemmingway had 1 from 2 shots (with skipper Marcus Balckwell doing it all solo – go the solo blue marlin!), and Foreign Exchange got the wooden spoon going zero from 4, with hooks pulling near the boat.
Rick reports the fish ranged from about 175lbs to 500lbs plus and another very positive sign confirming the late summer bite that had been predicted for the Coffs Coast, and hopefully, perfect timing for the Heavy Tackle Challenge coming up here in less than two weeks.
QLD Gold Coast
In case you were wondering if there was another Gold Coast blue marlin report coming, the answer is 'of course'.  For those having to actually work a 5 day 9-5 week it has been torture and I'm afraid this report is not going to make that any easier for those who've been counting down the hours until the weekend (and also with the weather report not looking particularly friendly).
Mana Stack and crew (Kane Stack and Ian "Rocky" Pollard) on Loyal to the Game had the kind of day that Mana describes as (in possibly the longest text message I've ever received too thanks Mana!):
"Well what can I say. Some fisherman would say we had an average day, others would say a good day, and the last group would say we had an awesome day. Well in my book, we had an AWESOME day."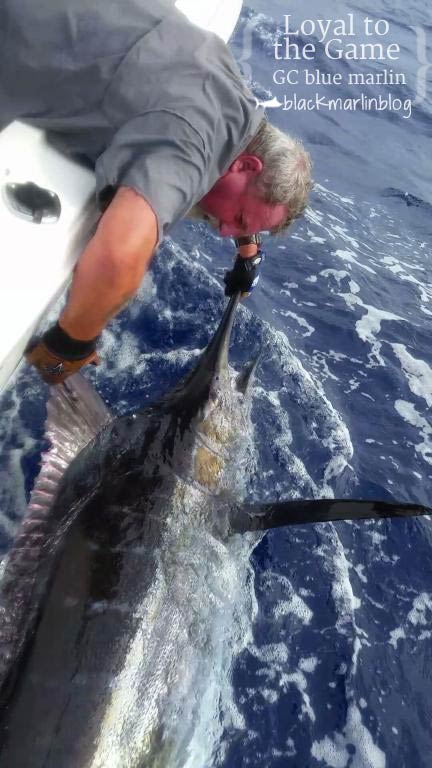 By 7:30am they were already tagged to a solid blue which they tagged by 8 at est 140kg for Rocky. 8:30am mayhem as 3 solid blues exploded behind the boat. Triple hookup! Two of the fish finally jumped off but Rocky got stuck into his 2nd blue and tagged her soon after. A great fish around the 180kg mark.
By this stage they were enjoying a few beers to celebrate, but not for long as the blues kept coming. But for the life of them, they couldn't keep the hooks in them (just how many beers were there Mana? ;-) )
They finished the day with 16 strikes, 9 hook ups and 2 tags.
Mana says while they would have loved to tag ore of the fish, they are still really happy with the day's action (that is after all, blue marlin fishing) having fished his entire life and have not seen so many blues in one day, he can't wait to get back out there.  They also took a 14kg dolphin fish home for dinner and  were fishing just inside the Riv grounds.
And back to the solo blue marlin, great short clip from David Granville from his solo blue on Cover Shot: