A quick one on this Monday: a few (awesome!) reports while we wait to hear about the weekend tournaments.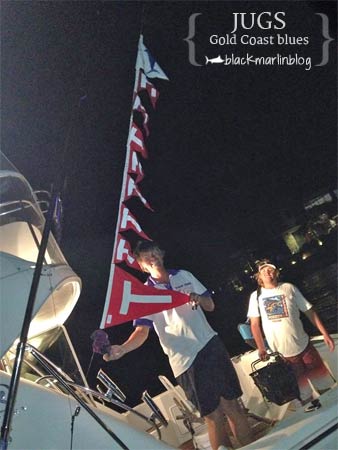 From the on-fire Gold Coast again, the Caelli's (Guy, Matt and Ben) and Mat Stehman on Jugs yesterday reported a jaw-dropping 9 blue marlin tags from "well over 20 fish raised".  Matt Caelli tells me it an incredible day on the water and that they had four shots at tagging number 10, and dropped another two at the boat.
You know its a good day when you have to pull out the red jocks to make up the final tag flag! ;-)
I also heard that Matt Sander on Megumi released 4 fish (3 blue marlin and 1 black marlin) – 2 blues and a black for Gail, and 1 blue marlin for Laurie Smith.
Meanwhile Port Stephens is likewise not surrendering as a contender for hottest fishing for March either with Capt. Tim Dean's Calypso now up to 49 marlin (blacks and stripes) in the last 15 days of fishing.
Over the weekend Jess Sams (Ulladulla) and Broken Bay tournaments were held and hopefully reports to come soon.
Lastly, the sad announcement that Exmouth's Gamex tournament was cancelled due to the after effects of cyclone Olwyn, which essentially left the hosts dealing with not only the damage to their own homes and businesses, but without the necessities for the event to go ahead (ie. access and power).  Thoughts are with everyone over there at the moment – I'm sure it was a very hard decision to cancel the event after a full 12 months of preparation. I understand that there will be some informal activities and fishing for those who made it to Exmouth already so we look forward to hearing how they go.  Bring on Gamex 2016!