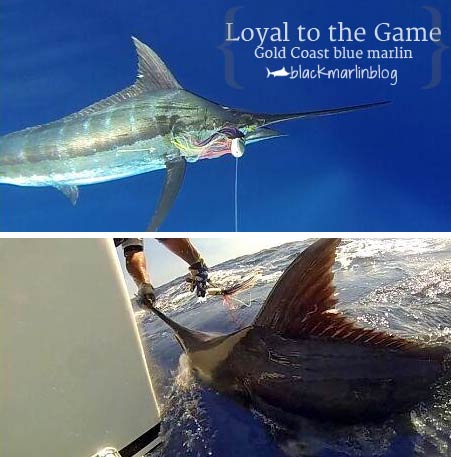 A bit more from the Gold Coast: Mana (Loyal to the Game) braved the weather on Sunday (though it turned out to be  beautiful day) on the Riv grounds.
By 7am they were onto their first blue and once again, it didn't stop all day. They ended ended up with 12 strikes, 9 hook ups and tagged 5 – all between 120 to 200 kg.
Mana says there didn't appear to be as much bait as last Thursday and not as many birds, but the water condition were fantastic. They saw 3 other boats there and we were all hooked up at one stage including a trailer boat named Viking that was a12-9-4 when LTTG left the grounds at 3pm to head home. Once again a great trip out! (I bet!)
From Coffs Harbour: With the Solitary Islands Game Fishing Club's Heavy Tackle Challenge looming large on the horizon (March 28-29, which is the weekend after this coming one), competitors will be heartened to hear that the blues remain at Coffs in numbers. The BoM pulled a wrong turn with Sunday's weather report (again), with only Better Than Vegas braving the horrendous conditions, which proved to be glamour until the southerly rolled through at 3.30. With just two on board a 38 footer, in a five hour bite window they went three from six, on fish ranging from 140 to 180 kilos. Skipper Pete said the result could have been even better with more hands to help out.
Entry details are available from the club's website: www.solitaryislandsgamefishingclub.com
From Exmouth:  Ryan Goding who is in Exmouth for 'the Gamex that isn't Gamex' reports a 4-2-2 blue marlin fishing on Sea Eagle on Sunday.They are fishing an 'unofficial' comp today – good luck to all competing!
Tournament report from Jess Sams (Ulladulla) to come.
Simrad Broken Bay Invitational
The club report that 62 boats and 272 anglers lined up for this years Simrad Broken Bay Invitational and while the fishing was unfortunately cancelled for day 2 (weather).
Tag and Release: Mauna Kea took champion boat from Runners Up Hold Up.
Capture Division:  Hot Head won champion boat with The Cuban runner up as well as taking home the winner's cheque for Heaviest Marlin over 150kg with a 178kg blue marlin on 37kg line.