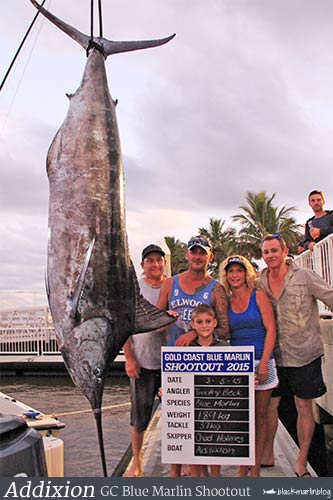 "After the massive storm that ripped through the Gold Coast on Friday fishing was cancelled on Saturday leaving us with a one day shootout.
We had 20 boats competing from all along the east coast of Australia. We had 19 hookups on Sunday, many of the fish hooked up were tagged/released although being a capture tournament a finally tally was not kept.
6 blue marlin were brought to the scales from 291 lbs to 416 lbs from Big Business, Watch Tower, Hook Me Up, Fish Whisperer, Lucky Strike and the champion boat Addixion.
The air was filled with excitement at the weigh station with large crowd all wanting to ask questions and take photos, most of the crowd didn't even know that you could catch fish like this off the coast.
This new style of tournament was defiantly a winner with the fishermen and the public!!
Everyone enjoyed themselves at the briefing and presentation with live music, fantastic food, plenty of beverages, great company and an outstanding venue.
Chad Holmes and his crew from Addixion walk away with $25,000 cash and a 5kg crystal trophy with a 3D game boat and a marlin lasered into it.
Everyone really enjoyed the one day shootout and are looking forward to the next cash prize tournament planned in a few months."
Thanks to Ash Hurley for the wrap up!