Full tournament report from EGFC President Jeni Gates:
What an amazing weekend we just had for the 2015 Australian Junior Billfish Tournament.  The weather was a bit ordinary on Saturday morning, but it turned glass for the afternoon, and Sunday was even better.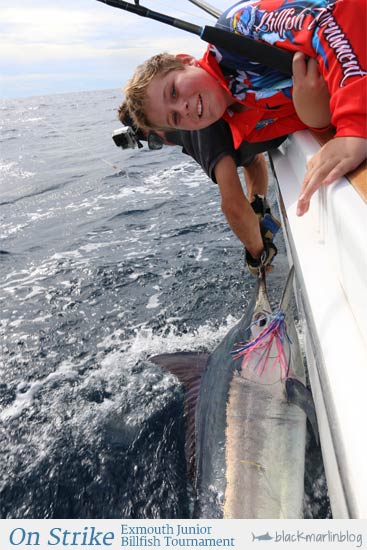 It was perfect conditions for the all the 19 junior anglers (9 teams) that got out to fish the two days targeting billfish.  Anglers came from as far as Townsville, Victoria, Dampier and Perth to fish the tag and release event.
We are pleased to say that there were a total of 14 black marlin and 1 sailfish tagged by the juniors.  We are even more pleased to say that 6 juniors tagged their first-ever billfish.  They were Chloe Shultze, Sophie Niikkula (aged just 7!), Jesse Sutton, Sam Ahern, and brothers Will and Tom Rintoul (both small fry's).
The parents were probably more excited than the kids during this event at times and we are sure that this event will be growing each year as Exmouth offers such great fishing so close to shore, which is perfect for youngsters.
The winning teams were:
Champion Team Junior
1st Azura
2nd French Maid
Champion Team Small Fry
1st Trophy
2nd Grandslam
3rd Tackleworld
Champion Team Mixed
1st On Strike II
2nd Nail It
3rd Pussee Galore
4th Our Time
A huge thanks goes to all those who assisted with the event and the sponsors, Home Hardware, Turbine Services Australia and Woodside.