Day 1 of the Lizard Island Black Marlin Classic and finally a bit of a break in the weather – 15-20 starts to look fantastic after this long!
And, with a few exceptions, its the private boat fleet that are leading from the front after Day 1.  And likewise, with a few exceptions, all the fish on Day 1 were caught on reefs to the north of Number 10 Ribbon.
Capt. Casey Dent's Zulu kicked off the point scoring with a 100lb fish for angler Rob at Jewel Reef just on lunch time. Adding a second at the same size later in the day puts the Zulu team in front on countback.
Reg Mooore's Duyfken followed not too long after with a fish at Hicks Reef that they put at a nice 750lbs.
Likewise Mark Parkinson's Black Label tagging a fish at Day Reef that Mark put at 550lbs.  Meanwhile, a couple Cairns based private boats Adrenaline and Black Magic also both tagged fish.
The team on Adrenaline soon hooked up again and this time was in for the big fight over the next three plus hours eventually tagging and releasing a fish for Kevin Jennier that they put at 900lbs.
This was the start of a flurry of big fish. Black Magic accounted for a second tag of a fish that they put at 900lbs and also Capt. Laurie Wright steered another private boat, this time the Poulter's Think Big onto another big one at 900lbs for Sharon Poulter – the first lady angler on the leaderboard.  A still from the rigger cam of Sharon's fish at top!
While Black Magic and Think Big were both fishing on Number 10, to the best of my knowledge, the rest of the fish were caught to the north.
While a far change from the great start to fishing in 2014, it was nice to hear of a few fish around after a few quiet days. And with the break in the weather here's hoping the warm water moves back in, and the fish with it.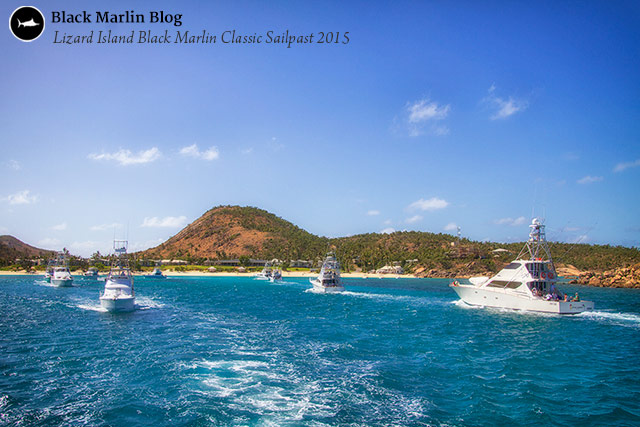 I'm Tweeting the fish.  Thanks to those who followed on Day 1 though sorry I missed the last sked entirely, I don't think I missed any tags! But I'll update as soon as I hear from tournament base.
Broken Bay stripes
And the team on Rod Finlay's Murrifin kicking off their 2015/16 season with another pretty awesome day on the water recording a 3 from 5 striped marlin as well as a 34kg yellowfin for dinner. Rod says that makes 7 in two trips now.
Doug Robinson who was fishing nearby on Myles Weston's Elempi filmed some spectacular jump shots from the drone of Murrifin's fish. If you're on facebook, I shared the video on the Black Marlin Blog page and its worth a look!
Myles tells me that they headed out in ordinary conditions and managed to tag one striped marlin from 3 fish that they teased. We fought the third one for 2 hours on 15kg line, and released a lit up 90kg fish. Myles says there is plenty of bait and life around, and between them and Murrifin they saw 8 marlin in a 6 mile stretch of coast, so must be a few there.
Update: Report from Harry Miriklis' Nemo who was also out fishing on Sunday off Botany Bay and had a cracker of a day for October with a 3-2-1. Harry reports bait on the surface all day, free jumpers seen all day, bait balls from 15 fth to 50 fth. Their fish weighed 77.5 kg.