I. Don't. Even. Know. Where to start!
The good news is that the fish have returned to the edge on the reef and there has been some awesome fishing amoungst the fleet. I have some Cairns catch-up reports today (more to come as I get word) as well as reports from SEQ. Coming soon also catch up reports from Exmouth, Sydney and more!
I know there are more reports but I just can't fit them all into one post. More to come!
Cairns big marlin season
Big fish have been caught every day over the past 5 days.  And some real ones among them.
Capt. Dean Beech fishing the edge after a great trip to Osprey Reef (catching this 900lb-er – photo above). Fishing the edge has been hot for the Onsite team over the past few days with a fish that Deano put at 1050lbs on Thursday and followed up yesterday with 4 bites on Number 10 for a 900, 600, 400 and 300!  Deano reports that he saw the Island boat Fascination fight 2 as well.
Capt. Brett Goetze's Amokura was in Cooktown last night on changeover after an 'epic' 5 day trip with 9 fish including 4 monsters over two days that Brett put at 999, 999, 1050 and 1100++ which Brett says was considerably bigger than the others and the biggest that he has seen. Action shot below.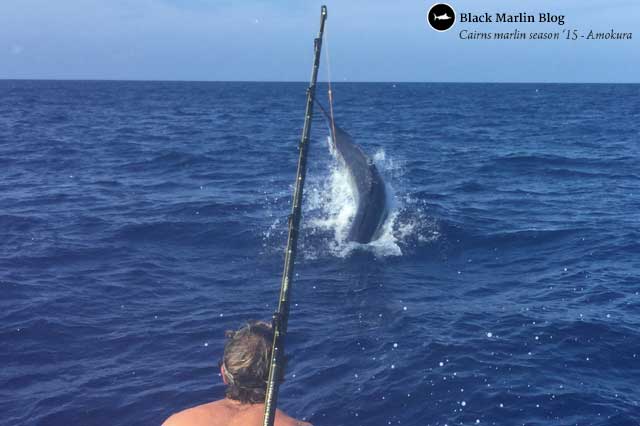 Capt. Tim Richardson's Tradition caught a fish that he put over the mark a couple of days ago and followed it up with 'a real monster' yesterday. Catch up report: Tim says last week they fished some old friends from Florida for 5 days in the Middle up to #8 and tagged 3 up to 500, a 1050. They also jumped off a real big one and had bites form 3 more big fish. Yesterday they headed out from Cooktown with regular client Stephan Kreupl and tagged a small one at noon, and then hung in and got the bite from a big one, caught her in 10 minutes at 6 pm, 1100lbs!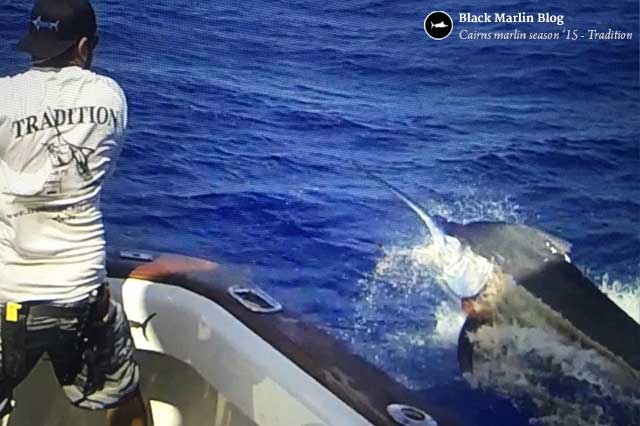 Capt. Simon Carosi on Reel Chase fished Anderson Reef on Friday for two big ones and a smaller fish.
I have a couple of catch up reports from Capt. Casey Dent's Zulu and pic below. Earlier last week they finished up a 4 day trip with 4 fish to 850lb which was satellite tagged for the Great Marlin Race.  They finished up another five day trip on Thursday with 10 fish up to 900lbs as well.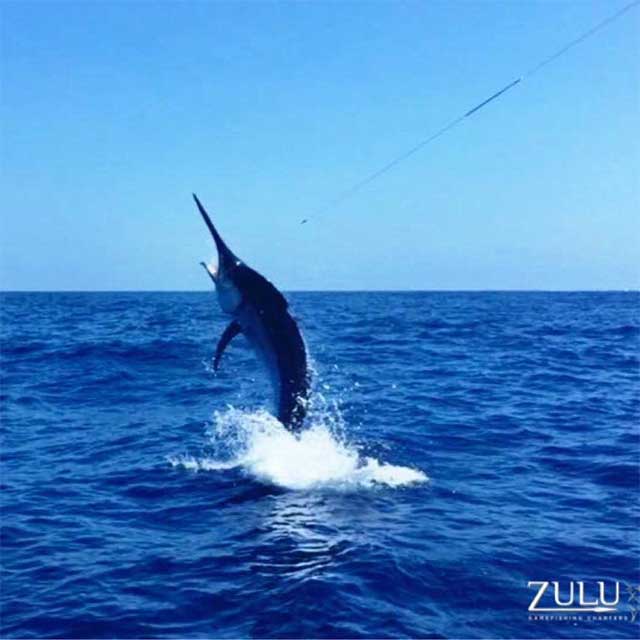 Capt. Steve Ahlers on Hellraiser has  finished an 8 day charter with Simon Atkinson and his family, and this photo below is the best fish of the trip.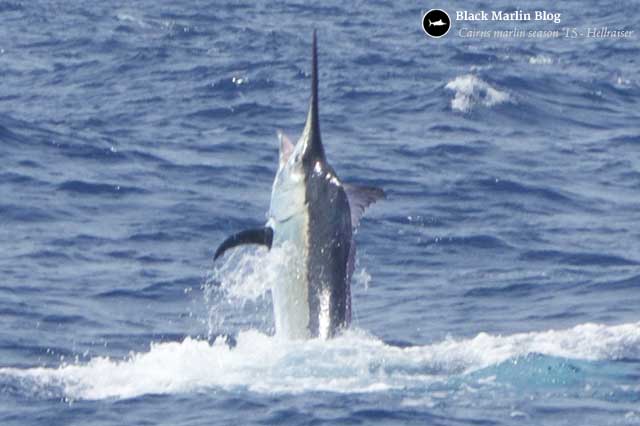 The Port Douglas Marlin Challenge is on and I heard of a few nice ones on the skeds yesterday. Capt. Laurie Wright is on the wheel of Paul and Sharon Poulter's Think Big and recorded another nice one for Paul on Day 1 that Laurie put at 900lbs.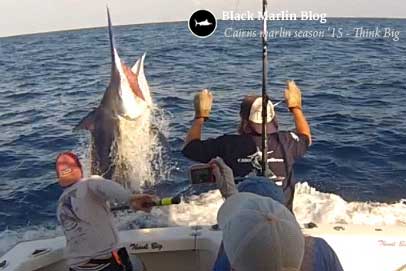 I'm running out of phone range again so lets just say this report is to be continued.
SEQ blue marlin
Following up from word of Little Audrey's big blue marlin off Osprey Reef up here, reports of big blue marlin again off Fraser Island.  Sunny Coast GFC boats have been once again among the action. Club Captain Brent Higgins tells me that Allure has joined Old Salty Dog up there and have seen big fish as well, including one they called close to 900lb yesterday – 4 large models have been hooked, 3 in the 700- close to the mark range.
Rob "Smithy" Smith has given me a few more details – Rob says "Old Salty Dog is a 40′ Luhrs owned and skippered by Nick van der Merwe with angler Stu Dows in the chair on 130lb and Ian Bateman on the deck tagged. They released a 3.4m short length blue marlin after two hours fishing the top of Fraser Island.  Measurements were 2m girth and 500mm tail wrist.  Working that out if it was a fat fish comes in at 1,045 pounds."  Pic via Allure who helped to swim and revive the fish having the lower gunnels.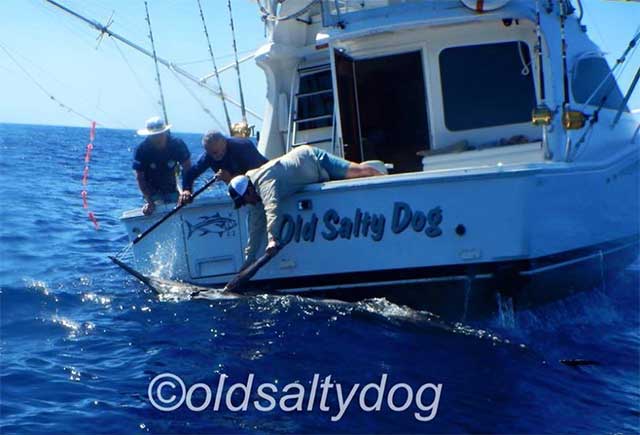 And its not just Fraser where the blues are firing. The Gold Coast clubbies have been into the fish as well. Report from Jesse Hill's centre console Reel Teaser fishing the weekend for a 7-7-2 blue marlin on Saturday for a marlin virgin successfully tagging a double. They backed it up on Sunday fishing only for a couple of hours only with 3-3-3 blues. The final tally for the day and a half 10-10-5 blues.  Not bad for a 5.5m centre console! Jesse said that Oceaneer also fished the day and a half next to them and went 7-7-2 getting unlucky straightening 2 hooks!